How to do Machine Tending Using Collaborative Robots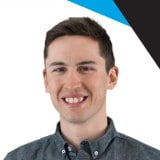 After having gone into many different manufacturing enterprises I quickly realized that the gap between their actual state and their desired state of robotization was often due to whether or not they believe in the concept of automation. It helps if people can see that the process is working fine and that it is easy to do. Most people don't want to mess around with a robot that is working only half the time. They are already busy enough with their every day jobs, they don't want to have to bother about a robot too. This is where collaborative robots come into play. They are safe to use, easy to program and space saving; these robots are the perfect fit for machine tending.
Collaborative robots like Universal Robots are used in machine tending in machine shops around the world because of their many advantages. You may want to look at the following video to have a better idea of the different steps necessary to achieve a machine tending routine with a Universal Robots and a Robotiq 2-Finger 85 Gripper.
Steps
You should consider that there are always certain basic actions that have to be accomplished when doing machine tending operations.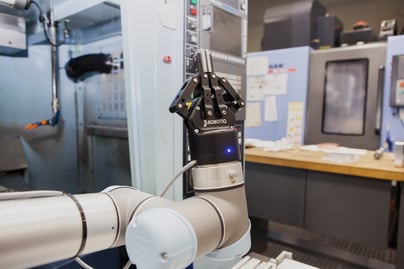 Program the robot arm: All collaborative robots can be programmed by hand guiding. It is an easy way to program a robot since it doesn't requires a strong robotic or programming background.


Program the Gripper: In this particular case, a Robotiq Gripper can easily be programmed using a special embedded feature in the Universal Robots' teach pendant.


Pick the part: You first need to determine how you are going to pick your parts. An ordering method should be designed to find an easy way to pick your parts with the Gripper.


Place the part: This can be a challenging part of the machine tending application. In fact, placing the part in the CNC machine has to be done relatively precisely to ensure that the CNC program will run normally. You need to make sure the robot can repeat the part positioning by mechanically locking the part in place or by adding force sensing at the robot wrist/tool to make sure it will place the part at the right spot.


Door closing/opening: In order to keep your employees safe, you need to close the door of your CNC machine. To do so, you need to either do it with the robot or by using the robot/CNC machine interface (if you already have an automatic door).
Releasing the part: You need to think of a way that parts can be stored easily after being machined and that they don't damage each other. This can be a tricky point since it will play on your final product quality.
Other funky stuff: After that you can make the robot do whatever crazy stuff you want it to do. Clean the table, push some buttons, whatever!
As you can see, it is not complicated to do machine tending with a collaborative robot. I've been programming collaborative robots for a relatively short amount of time and I am generally able to achieve good results with it. If you are already programming CNC machines, it won't be tough for you to get into collaborative robot programming.