The Robotics Industry in 2013 and Future Predictions
by
JA Carette
. Last updated on Jan 29, 2015 11:18 AM
Posted on May 21, 2014 8:00 AM. 4 min read time
The International Federation of Robotics (IFR) put out an updated report of the state of the robotics industry for 2013 with some interesting points. Let's take a look at them.
Arturo Baroncelli, President of the International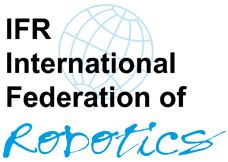 Federation of Robotics (IFR) said, "Year 2013 has seen another all-time record in robot sales, reaching 168,000 units." With much of the impressive demand in the Asian market according to Metra Martech's report "Positive Impact of Industrial Robots on Employment Updated in January 2013". Thus the addition of the new IFR Industry Association member from China Robot Industry Alliance (CRIA), a non-profit organization that will focus on robot R&D, production and utilization should be a welcome addition for the organization allowing greater interaction between the robotic community worldwide.
Areas of Growth for Robotics
The updated report listed areas as diverse as: consumer electronics, food, renewable energy, advanced battery manufacturing and service robotics as being some of the most relevant industries for gains in potential robotic markets.
The report's author, Peter Gorle, highlighted three critical areas for growth in robotic deployment such as:
where products cannot be made with precision or consistency without robots;
where working conditions for humans are less than ideal; and
where labor cost inequalities can be better balanced by the use of robots.
The report also mentioned several other economic factors which could positively impact the implementation of robotics over the near future, such as: Globalization, Shorter production runs, Aging populations, Wages, and Health and safety regulations. So let's look at these areas in more detail.
Globalization
In a globalized economy two important factors are seen to be defenses for maintaining production in developed countries. They are continuing investment in R & D, as well as integrating automation. The report sites the success of the Fraunhofer Institutes in Germany, and the FIRST projects on Science and Technology in Japan as examples of this.
Shorter production runs
Higher marketing turnover and more customization require shorter production cycles for some industries. This is being seen more and more often and is considered to play a more important role in future manufacturing. Flexible robots and grippers instead of custom built models that can change with the required production cycle are key to adapting to this new trend.
Population aging and skills shortage

There is both the demographics of aging societies, resulting in aging employees, as well as the lack of a STEM trained workforce which will hit the economy simultaneously. Of the six countries studied in the report, Brazil is the only country which will have an increase in population.

ManpowerGroup in 2013 surveyed 42 countries and found 34% of employers are having difficulty filing positions particularly in the skilled trades including Engineering and Sales. The report shows Japan having the most difficulty filling posts at 85%, Brazil 68%, the US at 39% and Canada at 34%. The problem is believed to be more of a skills mismatch than an overall personnel availability problem. Which is a training problem related to weak STEM graduate numbers, rather than a consequence of the aging population. But the fact remains that an aging population is also seen as a driver for the service robotics industry.
Wages
In the past robots have been most profitable when they can be used in areas that involve savings of high labor costs. Recently we have heard a fair amount about reshoring jobs that had previously followed low labor markets. With an aging employee pool, and a mismatched skills market, and robot costs declining, it would appear that robot implementation could also be the solution in other areas where the wages are not particularly high at the moment.
Health and safety regulations
Robots have already proven themselves in hazardous environments, or those involving great monotony and the risk of repetitive injury. Increased health and safety regulations for workers are likely to even the playing field for workers globally and this should encourage robot use when the environment warrants. The report notes that progress is sometimes slow in this regard, but no doubt still heading towards better working conditions and increased production through automation even in such previously recognized low wage markets like India and China (Foxconn sited).
Some statistics on Robot Manufacturing

The number of people employed in manufacturing robot systems has increased by 25,000 between 2008 and 2011 with most robot suppliers increasing capacity during this period.
IFR figures show 1 to 1.3 million robots presently in use.
Combining skilled systems integrators and in-house skilled technicians employed in manufacturing robot systems, give a total for the industry of between 320,000 to 350,000 people working in robotics.
Future predictions from the report
Miniaturization and new sensing capabilities will mean that robotics can be used in more industries, including those with small and varying lot sizes, materials and product geometries.
Robotics will make inroads into service industries, especially healthcare where an aging population will require support services, for which human care givers will be too few in number to provide. Health care, pharmaceuticals, medical device industry are areas where services are pretty recession proof, these are areas that IFR sees as gaining in momentum in the coming years.
Fuel cell development promises to be another area where increases in robotics are to be expected particularly because it is an area where human manufacturing is not accurate enough.
Robots will also help protect homes and offices, secure borders and monitor the environment in both routine and emergency operations.
The service robotics sector is expected to grow even faster than the industrial sector over the next five years and could itself be a major source of future jobs.
The report concluded that the growth of the high tech industries such as; the electronics and semi conductor sectors, service robots, food preparation, renewables and pharmaceutical sectors could all be significantly assisted by robots providing the required quality, precision, speed and traceability that cannot be achieved solely by humans. With so many areas benefiting from robots, robot production looks Rosie.