How to Choose External Maintenance Services for Welding Robots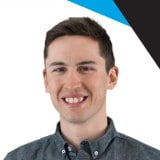 Maintenance! The most important thing for proper manufacturing and probably the most neglected part of manufacturing automation. To keep your production line running, to have good precision and repetitivity and to reduce shut down, you want to have a schedule for all of your machines - from computer numerical control or CNC machines, to welding power sources, everything must be considered.
The best way for a company to plan maintenance is basically to sit with the shop manager and organize what needs to be maintained daily, weekly, monthly and yearly. From there, build a detailed schedule to reduce downtime and to redirect the different manufacturing processes to another robotic cell, if possible. Once you have built this schedule, sensitive automated equipment such as a robotic welding cell usually needs to be done by external firms. These firms can perform almost everything you need for your robot cell -systematic inspections, adjustments, lubrication, part replacements and software updates.
Third-party preventive maintenance firms allow you to focus on your core business, so you do not necessarily have to have a specialized employee in robot cell maintenance on the payroll. Those machines require a high skill level and regular training, therefore it's hard to have an employee doing this job part time. A parallel can be made between the robotic and the automotive world. You can probably do all the maintenance on your car, but a mechanic can do it quicker and with the right tools! Make sure that the following tips are considered when choosing your external maintenance firm to get optimal results.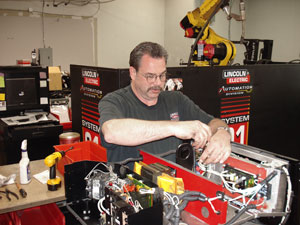 Knowledge and experience
When choosing an external service provider, make sure that they are specialized or experienced in automated welding equipment. In fact, don't choose a generalist that will just blow dirt out of your equipment. In the robotic world there are special requirements and techniques to execute proper robot maintenance. Some robotic applications need special maintenance and the generalist won't necessarily know about these details. Most of the time, specialized service providers or OEMs (Original Epuipment Manufacturers) are best. Also, keep in mind that if the robot manufacturer does not offer a maintenance service, they can generally help you find an appropriate service provider and establish a maintenance plan for your robotic application.
Maintenance techniques
In a single service provider, many services can be offered. In fact, most of the external firms offer different maintenance packages. Make sure you understand what your needs are because paying for a higher level maintenance package for nothing can be frustrating while making you lose time. Before buying something from the vendor, identify your needs and the problems that will be solved with proper maintenance.
Also, make sure to ask your vendor about their testing, diagnostic and calibration equipment. A good maintenance company will be able to troubleshoot robot arms and wire feeders, for example. They should have proper simulation and computer diagnostic equipment to prevent future problems or failures. Think about keeping an eye on the maintenance that is executed on your equipment as it can give you a good idea of whether or not your service provider is doing a good job.
Reducing downtime
The enemy of production lines!! Seriously, ask your service provider how they can help you reduce the downtime due to maintenance. Most companies have replacement equipment that can be rented (sometimes it's free) during the maintenance period. By doing this, you can stay fully operational while your equipment is being refurbished somewhere else.
Other advice
Even if in-house maintenance seems to be more cost effective for your robotic welding equipment, in reality it is actually more efficient to make the call and hire an external service provider. Your maintenance dollars will be better spent working with someone that has experience and the required skill level for such specialized jobs.
Sometimes service providers come from other countries or from the other side of the country, which means that they will charge for traveling and hotel fees. Call other companies with similar applications in your area to verify their maintenance schedules, if you can coordinate these services, this should reduce the bill. At the same time, ask them what maintenance package(s) they are using to see if you are on the right track.
When implanting your robotic welding cell, make sure that you go through the documentation for all your devices to get more details about your robot maintenance. You should notice that robot maintenance is on-going and doesn't start after one year of use.
If you are interested in preventive maintenance, I recommend books on ''Total Productive Maintenance'' (TPM) that give you principles, tricks, tips and examples about the importance of proper maintenance. Also, take a look at the following comparison grid on different power sources for your next welding robot; there might be one that fits your application.