2014 Robotics Industry Forum: Quotes, Facts and Impressions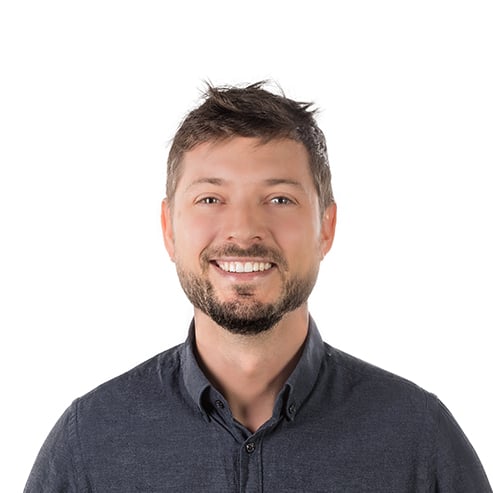 by
Samuel Bouchard
. Last updated on Jan 29, 2015 11:10 AM
Posted on Feb 06, 2014 7:00 AM. 4 min read time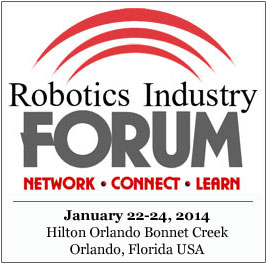 The Robotics Industry Forum is always a good event to kick off the new business year. It happens every January in Florida. This event is a great mix of robot manufacturers, systemintegrators, component providers, distributors, end users and people manufacturing end effectors like our Adaptive Robot Grippers. It also provides excellent networking opportunities (which become even better if you wear a vintage Quebec Nordiques shirt for the sports night) and an inspiring venue. Here are a few quotes, facts and thoughts that I wrote down on my way back from Orlando.
1) When Technology Drives Emotions
Adam Steltzner, Lead Landing Engineer, NASA's Mars Science Laboratory Curiosity Rover Project
This guy and his colleagues at NASA do what I dreamed of doing when I was at university (before I realized this was not going to fulfill my entrepreneurial aspirations). They develop land rovers for mars exploration.
Just watch the video, to feel for yourself, the emotions emanating from his team when they successfully land the SUV sized rover on the red planet ... it gives you shivers!
Three Particularly Valuable Quotes from Steltzner
"Great work and great folly may be indistinguishable at the outset."

"The quality of your product is a reflexion of the quality of your team."

When asked "What were you the most afraid of?", his answer was "I'm afraid of the things I've failed to think about.", because all the other catastrophic scenarios that they could think about had been mitigated.

2) Ludditism:

A New Word Added to my Vocabulary

Robert Atkinson, President, Information Technology and Innovation Foundation

Ludditism is a new word I learned at the event. It comes from the UK in the 1800s when workers started a riot and destroyed laborsaving textile machinery in the belief that such machinery would diminish employment.

The idea of Ludditism is that technology is reducing the number of jobs. And what happen after three decades of implementation of robots in industry? According to International Federation of Robotics "One million industrial robots currently in operation have been directly responsible for the creation of close to three million jobs". Read here how robots create jobs.
3) Getting Kids to Love Engineering
Would we be better off if more kids fell in love with science and engineering? It's hard to argue against that. Larry Bock did a presentation explaining why his mission is to celebrate science. He organises the USA Science and Engineering Festival happening every year in D.C. Two good quotes from his presentation below.
Larry Bock, Founder and Principal, Science Spark, Creator and Executive Director, USA Science and Engineering Festival.
"We get what we celebrate, let's celebrate science, technology and the ones who create it"
Elon Musk, Founder, SpaceX
"Engineering is the closest thing to magic."
4) Offshoring and Reshoring Are Now Breaking Even!
Harry C. Moser, Founder and President, Reshoring Initiative
We've reached the point where the US gains as many manufacturing jobs by reshoring as they are losing from offshoring. See it with your own eyes by downloading his presentation.
5) Cheap Labor is No Longer Key for Manufacturing in the Near Future ?
John Dulchinos, Vice President, Global Automation, Jabil Inc.
John Dulcinos was the CEO of Adept for several years, selling industrial robots to companies like the one he's working for now: Jabil.
Jabil is the 3rd largest electronics contract manufacturer in the world. Their largest competitor is Foxconn, which is about 10x larger, employing by itself more people than Apple, Dell, Microsoft, Intel and Sony combined! Now that's an opportunity for automation!
In his talk, Dulchinos makes the point that cheap labor has always been a key component of manufacturing. But demographics and technology will finally make this irrelevant. In industrialized countries and even in China, you'll have fewer people available for the workforce. Factory sites won't be where the cheapest workforce is located, but rather they will be located closer to the consumer and the people that design them.
This talk was so interesting that I wrote a companion article about it, which will be coming soon.
6) Your To Do List for 2014 According to Alan Beaulieu
Alan Beaulieu, Institute for Trend Research
Alan Beaulieu is an economist whose company has a great track record for predicting swings in the economy. Bottom line: 2014 will be a great year for automation providers in North America, more in the first half than the second.
Considering the current context and his predictions, the slide below shows his advice on what you should be doing this year.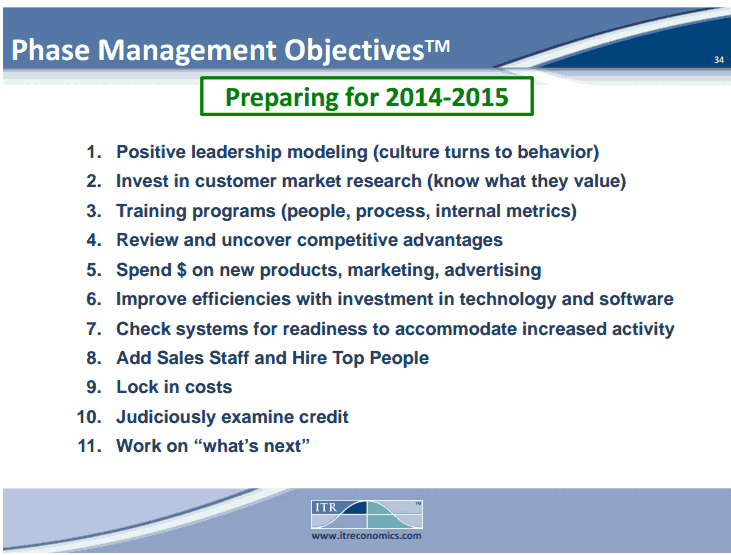 Conclusion
If you think the events look interesting, I really encourage you to participate next year. It'll still be held during the 3rd week of January in Orlando. The Forum is an RIA-MCA-IAI members only event. It is by itself worth the membership cost for these associations. Get on board!