Top 9 Robotic Highlights from IREX and IROS 2013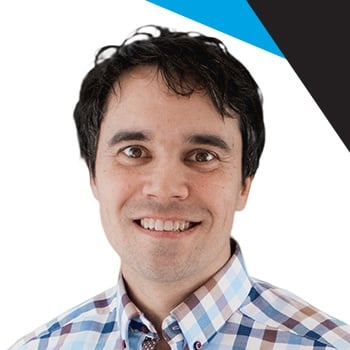 by
Jean-Philippe Jobin
. Last updated on May 05, 2016 4:26 PM
Posted on Nov 27, 2013 12:11 PM. 6 min read time
Japan is one of the most flourishing places in the world for robotics. As I am writing this, I am heading back home after an amazing week at IREX 2013 (International Robotic Exhibition), which took place at Tokyo Big Sight. This exhibition mainly focuses on industrial robotics, but this year was special because IROS 2013 (International Conference on Intelligent Robots and Systems), which is one of the main academic conferences dedicated to robotics, was presented at the same time. Even if a lot of researchers and academic exhibitors were complaining about the overlapping dates for both events and about the large distance (a 10 minute walk) between the exhibition hall and the IROS talks, it was really great to have many types of commercialized and research robots at the same location. But most of all, it was impressive to see more than 100,000 people attending this show in only four days.
For this exhibition, we were presenting our Adaptive Robot Grippers with our local distributor Nihon Binary. For the rest, see below a list of what attracted my attention.
1) New 7-axis robot arms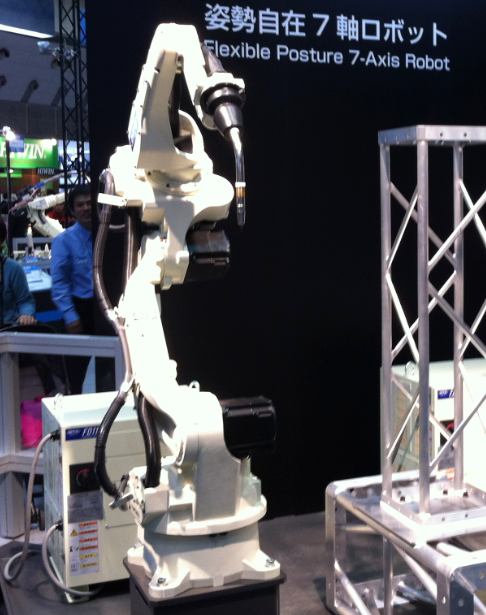 I was surprise to see some new 7-axis industrial robots (such as the one from OTC in the following picture). It is obvious that having an extra degree-of-freedom is very useful for many applications, particularly where the robot needs to go into a limited space, but these robots are not very popular mainly because of their price. I really think that even if the price is higher than for a 6-axis robot, it is beneficial for some applications to invest in a 7-axis robot, because it extends the manipulation possibilities and could reduce the programming and setup time. Hopefully, the arrival of new 7-axis robots will put pressure on the market to reduce the price.
2) Dual arm robots: just hype?
Epson, ABB, Nachi, and Yaskawa are some of the robot manufacturers that were presenting industrial dual-arm robots. Despite those who criticize the price of these robots and say that there is nothing you can do with a dual-arm robot that you could not do with two single-arm robots, it is obvious that most robot manufacturers now offer a dual-arm robot. Does this mean that these robots are not just hype and that they are here to stay?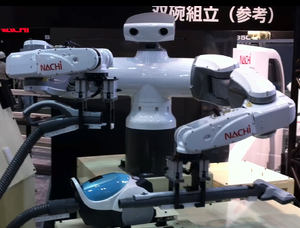 3) A bunch of three finger grippers
A bunch of three finger robotic end effectors (including Robotiq's) were presented at IREX 2013. Obviously, this is just another indication that the industrial market is changing. During the exhibition, I heard many people talking about flexibility and about the fact that the next big challenge for industrial robots will be to better adapt to unstructured environments. Seeing more versatile tooling in the industry is proof that at least part of the industry is going this way.
4) Hollow wrist robots, not just for welding robots
Many hollow wrist robots are nowadays available for robotic welding applications. Such hollow wrists are very useful to run the welding cable through the last axis of the robot, hence reducing significantly interference with the part(s) to weld. I was happy to discover at IREX new hollow wrist robots, some of which are not designed especially for robotic welding. This is good news for those who are using robots with end effectors that require cabling, as cabling failure is one of the main reasons for robot downtime. The use of a hollow wrist will reduce cabling failure, because the torsion and flexion of the cable is less and also because, since the cable is passing inside the robot linkages, there is less chance to rip the cable.
5) Assist devices
This concept is not new, we have seen many products or prototypes in the past 10 years being design to help people living with physical limitations or just to increase the capacity of humans. But for me, it was the first time I had the chance to see this kind of product for real. The one shown in the following picture (the "muscle suit") is designed to help people carry heavy weights. This exo-skeleton needs to be strapped around hips and shoulders and is pneumatically powered. To active the mechanism that helps you carry the weight, you just touch a sensor, which is placed on your chest with your chin.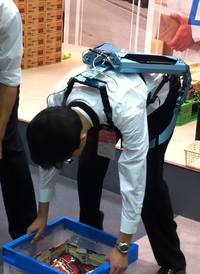 6) Assembly tasks
Many robotized assembly tasks were presented in different booths; mostly with small parts or electronic components. This made me realized that the market for small assembly is probably more important and more mature in Asia than in North America.
7) The Nextage robot, now for Research
Nextage is a collaborative robot that was developed by Kawada few years ago, mainly for small assembly and lightweight pick and place. Here they fully took advantage of the IREX-IROS event to launched the Nextage Research Platform based on ROS.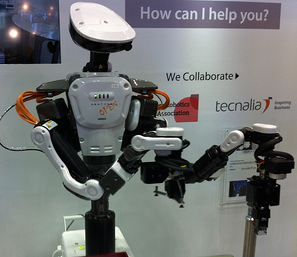 8) Toyota on two wheels
After Segway and many others, Toyota was presenting its Winglet. Nothing really new except that they have a design without a hand-bar, meaning that you control the device with your knees. You can see how it works on this video.
I still prefer the unicycle version from Honda, the U3X.
9) Unique marketing concept
On a less serious topic, I was surprised by some of the marketing methods used at this show. It is obvious that some products are more difficult to promote than others, especially when taboos are involved. In such cases, why not use cartoons? There is a trend to add cartoon faces to things that we never would have thought could make a good marketing character. I'll let you figure out by yourself what the product of the following picture is about.