New Ebook: How to Choose the Right End Effector for your Application
by
Guillaume Robert
. Last updated on May 05, 2016 4:26 PM
Posted on Sep 17, 2013 3:03 PM. 1 min read time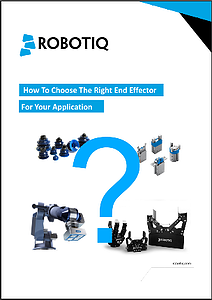 Nowadays, industrial robots are part of many manufacturing processes and aspects of production are improved by using them. Their repeatability and consistency improve product quality by reducing scrap. Moreover, they help save money because they can work non-stop during long periods of time. Since they are fast, they also reduce cycle time. All these facts prove that robots are valuable assets for manufacturers.
Often neglected, end effectors are a big part of successful robotic applications. A robot arm alone can hardly accomplish the job. End effectors can provide you the flexibility needed for actual and future applications.
However, choosing the right end effector is also a big challenge. Which kind of robot gripper is more suited for a bin picking application or a machine tending application for example? What if my parts are fragile or heavy or perforated? Making the right choice is often not easy.
This is why we have put together the following information, to help you make the right choice for your application.
In this ebook you will find:
An introduction to the family of end effectors

Pros and cons for each end effector family

A detailed list of things to consider when it is time to choose an end effector; including the definition of your needs, purchase costs and operational costs.