Are Robot Arms the Next Generation of 3D Printer?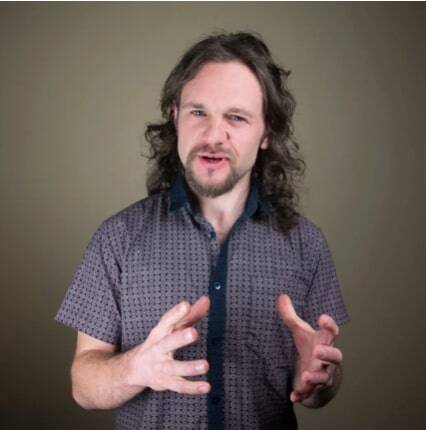 by
Alex Owen-Hill
. Last updated on May 02, 2017 7:00 AM
Posted on May 02, 2017 7:00 AM. 6 min read time
Could the next generation of manipulators also be 3D printers? We discover the exciting new intersection between robot arms and 3D printing.
Over the last decade, the development of 3D printers has been staggering. Since I first used a Mendel RepRap printer back in 2009, 3D printing has grown to be more accessible, more economical and more accurate.
We don't often talk about 3D printing at Robotiq, as our passion is to free human hands from repetitive tasks. Robotic manipulation and 3D printing are related, but they have remained mostly separate … until now.
\A rising trend in Kickstarter fundings caught my eye recently. It suggests that 3D printing and robotic arms are about to merge in a spectacular way.
The new robot arms double up as 3D printers.
Could the next generation of 3D printers be robot arms? By extension, could the next generation of industrial robots also be 3D printers? It's looking increasingly likely.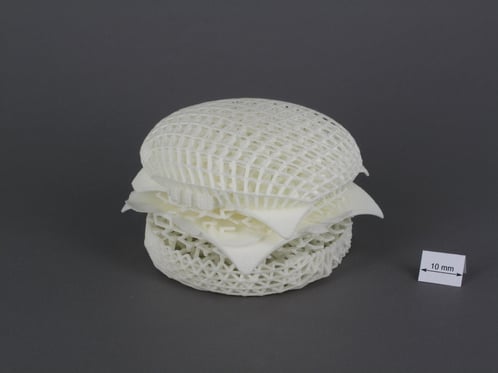 3D Printing from Food to Foundations
Although 3D printing has been around since the 1980s (when the first stereolithographs were developed), it has only been in the last decade that the technology has made it into the hands of hobbyists and small research groups. As you might expect, this transition has led to massive innovation. Additive 3D printing produced further innovation. This involves building up the printed object by extruding a material in thin layers, in a similar way that an inkjet printer deposits ink.
Traditionally, 3D printers could only produce objects made of plastic polymers. This made them useful for rapid protototyping but not great for most production items. Recently, all that has changed. New printing "inks" have started to come onto the scene.
Print Your Lunch
Some of the new materials should probably not be surprising. With the rise of molecular gastronomy — the discipline which applies scientific principles to food preparation — it was only a matter of time before robotics and food met head-on.
A recent collaboration between Columbia University and the International Culinary Center has produced a slick looking prototype which prints and cooks using multiple ingredients at the same time. The design has not yet made it to mass market, but when it does I feel sure it will quickly make its way onto the gastronomy scene.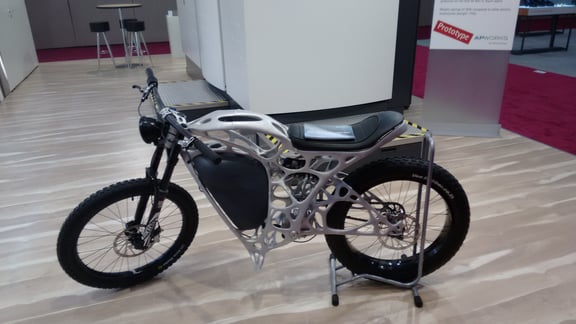 Print Your House
Food printing shows that you can 3D print pretty much anything. However, the most impressive new developments come when 3D printing meets architecture.
That's where robotic arms come in. The huge print sizes required to print buildings mean that traditional 3D printers just won't cut it. Manipulators have large workspaces, so they are perfect.
Over the past few years, there have been some spectacular collaborations between architects and robotics companies. Notably, this video from KUKA, posted in December 2016, shows a mobile KUKA Quantec robot printing architectural structures for the Gould Turner Group. In the video, architects from Branch Technology discuss the amazing potential for 3D printing in architecture.
We mentioned one early-stage project in our previous article on The Top 14 Successful Robotics Startups Last Year. The startup, called Genesis Dimensions, proposes to print buildings by extruding concrete using a telescopic robot arm. This same approach has been proposed by several research groups and companies in the past few years, with a few working prototypes which print with concrete.
But, concrete is not the only building material which can be 3D printed. The MX3D metal printer uses industrial robots to build intricate metal lattice structures. The Dutch company who designed it are set to build a bridge over an Amsterdam canal using two ABB robots. Look out for the bridge-building event, which is planned to go ahead this year.
As well as increased workspaces, these new robot 3D printers have another benefit. They almost completely remove the traditional printing concept of layers. Like the MX3D, the Material project allows 3D printing on any plane, using extruded 3D curves instead of layers.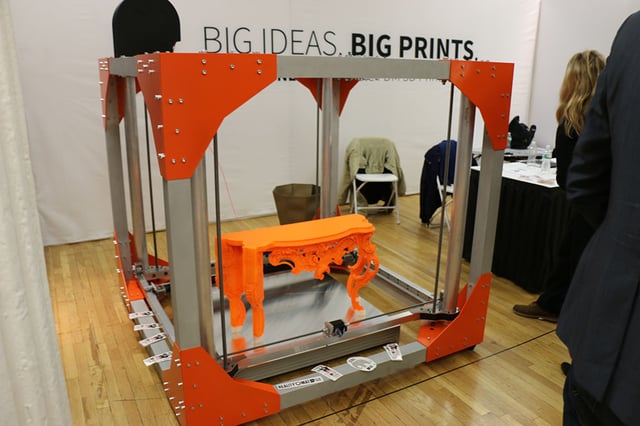 Five New Desktop 3D Printing Robots
Large scale architecture robots are certainly impressive. However, it was the small scale robots that really got my attention. There has recently been a burst of new desktop robots with the ability to 3D print.
Much of the past innovation in 3D printing has been fueled by hobbyists and small research groups. It is only natural that these people should continue to push the boundaries of the technologies.
Theoretically, you could attach an extruder to any robot and use it as a 3D printer. However, practically it requires a printing resolution that many robotic arms cannot attain.
Do the Specifications Support the Promises?
If these new robots are to meet their promise of being 3D printers, they need to be controllable to sub-millimeter accuracy to allow high resolution printing. We can get a good idea of this by comparing against existing 3D printers.
When comparing robotic arms, we tend to talk about accuracy and repeatability, rather than "printing resolution." Most manufacturers list the repeatability of their robots, as do manufacturers of 3D printers. Therefore, repeatability is good enough variable to compare the products.
I compared five of the new robot arm printers which have been highly funded on Kickstarter:
Dobot M1
Ally from Flux Integration
Armbot
Makerarm
Niryo One
To measure their performance, I have compared them against two common 3D printers and the KUKA Quantec high-accuracy robot — which the architects were using in the video above. I also compared the UR5 collaborative robot, which we tested for its repeatability.
| | | |
| --- | --- | --- |
| Product | Type | Repeatability (in least precise axis) |
| | Desktop Robot | 0.5mm |
| | Collaborative Robot | 0.1mm |
| | Desktop Robot | 0.1mm |
| | Desktop Robot | 0.1mm |
| | Industrial Robot | 0.06mm |
| | DIY 3D Printer | 0.05mm |
| | Desktop Robot | 0.025mm |
| | Desktop Robot | 0.02mm |
| | Desktop 3D Printer | 0.011mm |

What can we tell from these results?
While the resolution of these desktop robots is not as precise as the Makerbot printer, they are clearly getting there. If the robots meet their specifications, the Dobot and Flux Integration Ally can now print more detailed parts than the Reprap Prusa — a popular printer for people getting started in 3D printing. I can only see this performance improving over time.
As we would expect, it's clear the repeatability of collaborative robots is too low for 3D printing. However, as the technology continues to improve it's a potential direction for the technology, which I will watch with great interest.
Will there be a time in the future when we can buy a metal-extruding attachment for our collaborative robot?
Will we eventually use our robots for everything, including 3D printing our breakfast in the morning?

Would you use a robot for 3D printing if you could? Tell us in the comments below or join the discussion on LinkedIn, Twitter, Facebook or the DoF professional robotics community.