5 Advantages and Best Practices When Setting Up an Automation Cell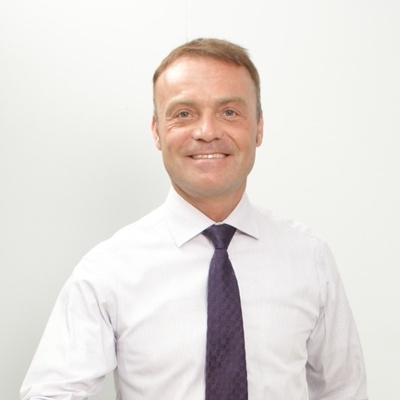 by
Lars Skovsgaard
. Last updated on May 05, 2016 4:15 PM
Posted on Mar 03, 2016 7:00 AM. 5 min read time
So you have read last week's post on the 5 Ways to Speed up the Implementation of Collaborative Robots. Today I will discuss the 5 advantages and best practices you can use when setting up an automation cell. Well read on!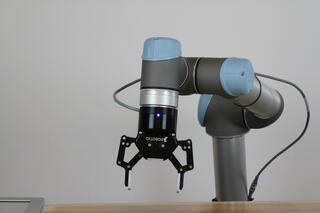 I have noticed that when setting up an automation cell there are a couple of things that will make your life a whole lot easier. Having your equipment work together well is top of the list, because there is nothing more frustrating than getting ready to put everything together and realizing that even though the bolt patterns match they still need another coupling to join them or that the software doesn't interface well and it needs some programming adaptations. Also important are:

Risk assessment and utilizing safety features

Safety is paramount and it is essential that a thorough risk assessment is conducted in any workplace scenario. A good place to look when it comes to robotic safety are the international standards, such as ISO 10218-1, ISO10218-2, ISO 12100 and the new ISO/TS 15066, which are internationally recognized and are mainly for robots and industrial environments. And of course it is important to also check your local guidelines and regulations for the topic.

When a robot is designed to be collaborative with modern and numerous safety functions like for example being able to switch between normal speed and reduced speed under certain conditions, this is a big help and in many cases can ease the risk assessment process.

Using potential free interface

When interfacing with external equipment such as conveyor systems or other mechanical devices with their own power supply; it is a good practice to use any predesigned interfaces, so the power systems are not mixed together, but signal exchange is still possible. An example can be found at this link.


Use of compact equipment with many options for mounting

Space constrains is a typical factor in the modern production environment where many processes have to take place within a small footprint, especially for SMEs (Small and Medium size Enterprises). Therefore lightweight and small equipment is preferred. Universal Robots are made of aluminum and range from the UR3 which is able to carry 3 kg to the midsize UR5 which is able to carry 5 kg and the UR10 capable of carrying 10 kg.

There are good opportunities for mounting a robot within a small space – even wall mounting and upside down on the ceiling are possibilities. The ceiling mount has the benefit of reducing the floor space used and many collaborative robot cells might require an operator to perform some tasks close by. This way the robot can move overhead and the table space (or floor space) is still free in such a situation. One example of robot mounted upside down can be seen in the following video.



Use of versatile grippers (end effectors).

When it comes to end effectors or as it is sometimes called, the hand or gripper – the important thing is that it can hold the object securely for the task being asked of it. Sometimes there are different objects for a task, which means the gripper must be able to adapt itself to the objects' shape.

Robotiq has done extensive research for an optimal gripper shape and found that the approach with 2 fingers or 3 fingers works well for industrial use. This is because 2 or 3 fingers can deliver enough force to hold onto the object securely while still being flexible. Although humans normally have 5 fingers, this is not necessary in many industrial applications. It is possible to make a 5 finger mechanical and electric gripper, but the result will often be bulky or if it is made small, it will be too delicate for industrial use. More importantly, those extra fingers are not necessary for holding most industrial objects. Therefore 2 finger grippers like the 2F85 or 2F140 and the 3F electric Grippers from Robotiq generally meet the requirements necessary for industrial use.





Simple is good.

As mentioned above, the Robotiq 2-Finger and 3-Finger Grippers function well because they are simple – likewise the motto "Simple is good" also applies to the entire robot cell application process. Because the simpler the cell, the easier it is to implement. The easier it is to program and maintain; and there are fewer components to fail. So a good approach is to keep the equipment simple. Universal Robots and Robotiq are a good match to achieve this. Further reading about making a robot cell.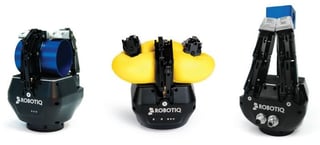 Robotiq 3F Adaptive Grippers holding different shaped objects.
These best practices for setting up an automation cell can make the difference in between a mediocre experience and one that both you and the client are excited about repeating. So it pays to take a little time and work with equipment that works with you. To follow up on this theme my next post will be on the 5 functions in UR and Robotiq software that are good to know about. See you next week!



Lars Skovsgaard is Managing Director of Zacobria Pte. Ltd. an accredited Universal Robots support Centre and Forum, as well as an authorized Robotiq and MIR distributor.
Disclaimer: While the Zacobria Pte. Ltd. believes that information and guidance provided is correct, parties must rely upon their skill and judgement when making use of them. Zacobria Pte. Ltd. assumes no liability for loss or damage caused by error or omission, whether such an error or omission is the result of negligence or any other cause. Where reference is made to legislation it is not to be considered as legal advice. Any and all such liability is disclaimed.
If you need specific advice (for example, medical, legal, financial or risk management), please seek a professional who is licensed or knowledgeable in that area.