How to Integrate Your First Robot (Part 1/3 Lack of Time)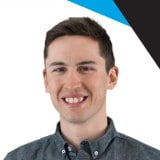 The Danish Technological Institute (DTI) has recently led a study to evaluate what was the gap between manufacturers and their lack of automation. As some experts say, more than 80% of manufacturing jobs can be automated, yet only small part of them are being automated presently. At the end of the day, people that are interested in integrating robots (or any type of automation really) need tools to do so. Here are a couple of tips to help integrate your first robot in your manufacturing plant.
The DTI has identified three main factors that come between companies and automation. These three factors are: lack of time, lack of skills and lack of technology. We have put together blog posts for each of these subjects.
Lack of Time
Lack of time can also be seen as just different priorities. In fact, in all aspects of planning your day, you will allocate more time to your highest priorities, right? Well, in this case, making automation your priority can make a major difference in your manufacturing process. If you think about it, investing time in automation will pay off in the long run. To have a global idea of what lack of time may look like, the following quote by Technology Manager, Søren Peter Johansen, from The Danish Technological Institute pictures it just right.
''Two cavemen are struggling with a cart full of rocks which has square wheels. A third man appears and offers a set of round wheels, but the two cavemen decline and assert that they do not have the time.''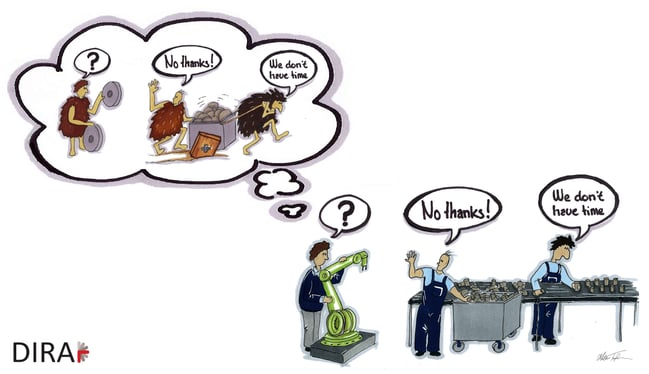 A perfect example of not prioritizing the right thing. The cavemen are focused on doing the task and not about what they can do to make it easier or faster. If you spend time enhancing your process, streamlining or automating, you will liberate time. The DTI then gives three tips to help you integrate your first robot or automation process:
1. Allocate Time
As pictured in the drawing, you have to reserve time in your day to look into automation, analyze the impact of it and finally install it. However, this isn't a thing that will come from floor operators. In fact, it has to come from the top levels of the enterprise. You need to allow people time to do things right.
An overview of which process needs to be automated and how can it be automated is the first step. Then you have to evaluate the impact (mostly economic) of your proposed changes with tools such as the ROI calculator and see how long it will take for a robot to be paid back and start reducing costs or increasing productivity. Finally, if you come to the tryout stage, start by borrowing, renting or potentially buying a robot.
Acknowledge that these steps take time and that you will have to do several iterations before finding the right solution for your automation process.
1.5 Allocate Somebody
Just to add my pinch of salt, I would highly recommend allocating someone to the project. In fact, the best way to allocate time is to dedicate a specific person to the automation project. So if you have a continuous improvement engineer or somebody that has an automation background, you may want to give them the project and give them the right tools to achieve their goal. It is not necessarily an easy project, since integrating a robot can sometimes be complex, however, in most cases, it worth it!
2. Try something new!
Well, you might have to try several options before finding out what works the best. We have seen a lot of innovative (and different) solutions to execute pretty much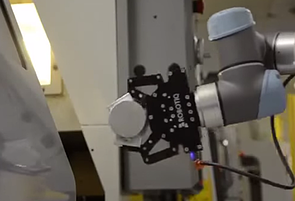 the same task. So the bottom line is, there is not just one way to automate a process. So try different ways and don't be afraid to be innovative in your process.
As most integrators would say: ''Start Small''. In the case of collaborative robots, most integrators will tell their customers to start with minimal equipment and expand afterwards. If in the try out process you develop bugs or problems, you can then add components or change your manufacturing process. But the bottom line is: start small and increase your robotic cell size as you discover what works for you. Imagine that you buy all the stuff you think you might need and finally do not use half of it, your ROI will be longer.
3. Ask Around
You are definitely not the first to automate a process and probably not the first to automate a specific process. Ask around to see if somebody in the industry has already automated your type of process or something similar. We are frequently posting videos or customer examples of projects that have been automated. These videos can give you an idea of how and what to do. As far as I know, people are generally glad to show you what they have done or at least refer you to their integrator or supplier.
Checking out other manufacturing setups will reduce your research time. Why would you spend time redoing what somebody else has already spent time doing.
So if you want to learn about the other problem areas detected by the DTI you will have to read our next blog post, coming soon. In the meantime, read our eBook on how to integrate collaborative robots in global companies by following the link below.
Related Articles