How Long Does a Robot Deployment Really Take?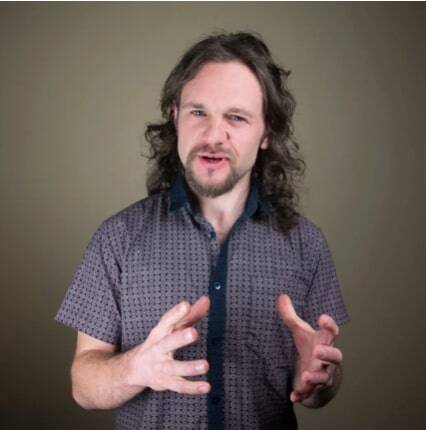 by
Alex Owen-Hill
. Last updated on Sep 08, 2021 11:25 AM
Posted on Sep 03, 2021 11:15 AM. 5 min read time
What's a suitable time frame for a robot deployment? 3 weeks? 5 months? A day?
When you're looking to add robotic automation to your operations, it's sometimes hard to find clear information on how long the deployment will take.
But, the deployment time is a key piece of information when you're comparing solutions. You need to know if a solution will take many months to deploy or if it will be ready to use in just a few days.
Every hour that the robot is not in production is potentially lost productivity.
Some robotic solutions take longer to deploy than others.
The key to success is knowing which solution will be the quickest for you.
Don't robot deployments take ages!?
People often assume that robots will take many months to deploy because most new technologies do take a long time to deploy.
Perhaps you've considered the previous examples of when you added complex technology to your business. Maybe, it took much longer than you had originally projected.
Robotics might be an unknown technology for you and each robot application relies on a lot of dependent technologies. When deploying a robot, you've got to think about which robot model to buy, which end effector, which sensors, which software, and which controller add-ons.
Surely a deployment of such complexity will take a long time? This can make adding a new technology like robotics quite worrying.
The Harvard Business Review explains that this concern is quite justified. They say that there is a "troubling gap" between the inherent value of a technology and companies' ability to put that technology to work effectively.
If you can't put your robot to work effectively in your business, you won't be able to earn a return on your investment.
A key decision: Bespoke robotic automation or application solution?
Thankfully, robot deployments don't have to take a long time.
When you take the right approach to deploy your robot, you can get it up and running in a matter of days, not weeks or months. But, the key is to pick that right approach.
There are 2 main approaches to automating with a robot:
Bespoke robotic automation: the standard deployment
The conventional approach to robotic automation is for a specialist integrator to design a bespoke robot cell for your specific task. They will assess your task needs, design the cell, source the various components, and integrate the solution into your facility.
A newer, related approach is to follow a Do-It-Yourself route and integrate your own bespoke design using easy-to-integrate robotic components.
The bespoke approach can take a long time. Due to the need to custom-design the robot cell, it can take weeks or several months to get the robot up and running.
Robot application solutions: a better way to deploy
Recently, there has been a great rise in demand for off-the-shelf application solutions. These are designed to speed up integration specifically by providing everything that you will need for a particular robot application.
Examples of popular application solutions include palletizing and screwdriving.
With the right application solution, you can get your robot into production within just a few days.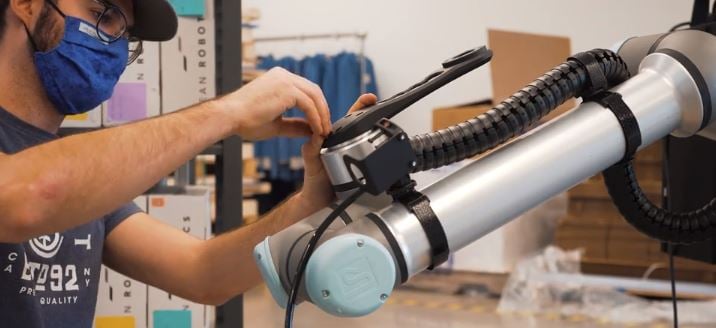 5 sure ways to deploy a robot quicker
Is there anything you can do to speed up your robot deployment and get it into production faster?
Here are 5 tips to get your robot deployment moving quicker:
Opt for an application solution — Unless you have a very specific, unique process that you need to automate, an application solution will likely be the best option. They are easy to use and quick to deploy.
Pick the right kit for your needs — Ideally, you should pick a task that will bring clear improvements to your process and a swift return on investment. It's often a good idea to choose your first robotic task based on whether a suitable application solution is available.
Verify the kit is really complete — Ensure upfront that your chosen application kit contains all the components and accessories you will need for the task. Some kits are not as complete as others.
Don't get stuck in the search — It's easy to get overwhelmed when searching for robotic solutions. There are quite a lot of options on the market and some suppliers claim their robots are easier to use than they really are. Pick a kit from a reliable supplier with a track record of making robotics simple.
Speak with an expert — The easiest way to get up and running quickly is to talk to an expert in robotic application kits. Get in contact here to talk to someone about your unique situation.
What's the real time frame for robot deployment?
When you have found the right robot application solution for your needs, how long can you expect it to take for the robot to be in production?
With a good application solution, your first deployment can take as little as a few days.
Kyle Heitmeyer, Controls Engineer for Crum Manufacturing, Inc., explains how quickly they were able to start using their Palletizing Solution.
He says:
"It only took two days to set up our first Robotiq Palletizing Solution. I easily saved a week and a half of designing, installing, programming and testing. I'm sure our next integration will take less than a day."
Finding an application solution for your robot deployment
If you think that an application kit might be a good option for your robot deployment, a good place to start is by checking out what kits are already available.
We have a whole selection of common robot application kits available on our solutions page.
What robot application would you like to deploy quickly? Tell us in the comments below or join the discussion on LinkedIn, Twitter, Facebook, or the DoF professional robotics community.