How Collaborative Robots Affect Waste in Your Manufacturing Process
by
Karen Smock
. Last updated on May 03, 2018 7:00 AM
Posted on May 03, 2018 7:00 AM. 3 min read time
In lean robotics, as in lean manufacturing, minimizing waste helps you move toward perfection. The book Lean Robotics: A Guide to Making Robots Work in Your Factory identifies eight specific types of waste that consume resources without creating value. This article will explore how collaborative robots affect each of these types of waste.
1. Transportation
Transportation waste refers to unnecessary movement of parts, materials, or information.
Before adding a collaborative robot to your cell, it's extremely important to identify wasted movement in the design phase. According to the Lean Robotics method, this is when you complete a value stream map. Be sure to include what the human worker actually does to complete a task, and identify how information really moves – not just how it's "supposed" to move. You want to create a true picture of how everything currently moves so you can eliminate inefficiencies with your redesigned robotic cell.
2. Waiting
This type of waste means anyone or anything that's unproductive while waiting for a work cycle to be completed.
As with all machinery, you want your collaborative robot to be operating at an efficient capacity and pace. A common misconception is that collaborative robots are fast, like the robots used in the automotive industry. But in fact, speed limits are an important aspect of the safety of a collaborative robot.
Collaborative robots may not be fast, but they also don't need breaks. Consider timing carefully if you're incorporating collaborative robots into a process that also uses human workers, to make sure the human isn't waiting for a robot to hurry up.
Another related form of "waiting" waste identified in the Lean Robotics book is the lag time between when a collaborative robot is purchased and when it is implemented. Aside from wasted wait times in the production cycle, you should also consider how there may be unnecessary waiting in the design and integration phases of your collaborative robotic cell deployment project.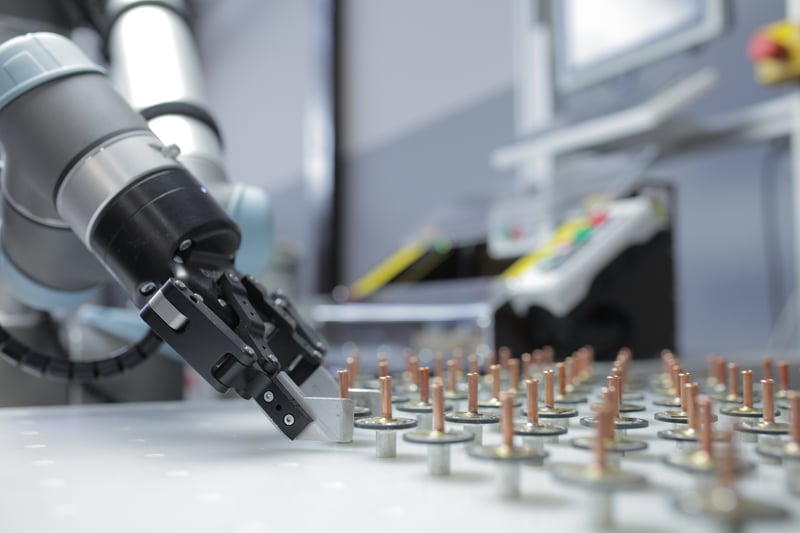 Lean Robotics identifies eight types of waste that consume resources without creating value.
3. Overproduction
Overproduction waste means producing more or faster than demand requires.
Collaborative robots are much more flexible than traditional single-purpose robots. Since collaborative robots accommodate high-mix/low-volume production, they're an excellent way to take advantage of robotic automation without being forced to commit to high yields.
With proper planning, you can even repurpose a collaborative robot to perform another task if demand shifts to another product. However, there are some features you can't change, such as payload, so it's wise to consider potential future applications when determining the configuration of your collaborative robot.
4. Defects
This type of waste occurs when products are unacceptable.
One potential benefit of using a collaborative robot to automate the right task is improved quality. The robot will do what it's programmed to do, consistently. As long as it's programmed properly, reducing defects is an outcome you can achieve by using a robotic cell for a well-suited task.
5. Inventory
Inventory waste means accumulating leftover raw materials, works-in-progress, or finished goods that will not create value.
Thanks to their suitability for high-mix/low-volume production, collaborative robots can help you reduce inventory waste through shifting toward made-to-order production runs rather than stockpiles of inventory.
6. Movement
This type of waste refers to unnecessary movement of people, materials, or equipment.
The process of safely implementing a collaborative robot will force you to examine how everything moves within each production cell and between stations. The task mapping step in the design phase allows you to identify opportunities to maximize efficiency.
7. Extra processing
It's a waste to perform extra work beyond that which is needed to meet the customer's standards.
In the design phase, when you're mapping every step in your process, every task that is done, and every piece of shared information, you should ask why are these things done? When you create a new map of the ideal process to use for your robotic cells, aim to eliminate any extra work.
8. Underutilizing human potential
Human potential is wasted when employees are prevented from making greater contributions because of other tasks they need to perform.
The Lean Robotics book calls this waste perhaps "the most important type in lean robotics." With the shortage of skilled labor in manufacturing, and media hype about robots taking jobs, this point is an important one to examine. By using collaborative robots to do jobs humans aren't well suited for, or don't like doing – such as repetitive, unsafe, or boring tasks – human workers are free to take on more interesting, higher-value tasks that can't be done by a robot.
Minimizing waste is one of many potential advantages of deploying a robotic cell. To learn more about lean robotics, visit leanrobotics.org.