How to Configure a Robotiq Device with DeviceNet Communication Protocol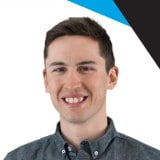 Robotiq specializes in robotic hardware devices. However, to take advantage of all the tools available to configure your gripper with your robot or robotic cell it might be helpful to understand the basics about communication protocol setups. It is in this vain that we thought we would show our readers the basics about configuration setups and troubleshooting for the communication protocol, DeviceNet. Since even for us, this is not our specialty, in this article we will refer to websites that can provide you with more in-depth information in communication protocols and that are more equipped to answer your more specific questions.
For this article we focus on the DeviceNet communication protocol. This language is the most used in the automation market. Note that all our Robot Grippers can be configured with this communication protocol. Since data handling is based on Producer/Consumer technology this makes it robust and efficient.
What is DeviceNet?
DeviceNet is a digital, multi-drop network that connects and serves as a communication network between industrial controllers and I/O devices such as Robotiq devices. Each device and/or controller is a node on the network. As a Producer/Consumer network, it supports multiple communication hierarchies and message prioritization. DeviceNet systems can be configured to operate in a master-slave or a distributed control architecture using peer-to-peer communication. DeviceNet communication protocol has several features to deliver increased productivity through improved process control and information flow:
Operates in a master-slave or a distributed control architecture using peer-to-peer communication.

Supports both I/O and explicit messaging for a single point of connection for configuration and control.

DC power on the network is available to devices with limited power requirements.

Reduces connection points and physical size of network.

Follows the Open Systems Interconnection (OSI) model, an ISO standard for network communications, so all necessary functions are defined, from the physical implementation to protocol and methodology to communication of control and information data within and across networks.

Provides seamless bridging and routing from DeviceNet to other Common Industrial Protocol (CIP) Networks, which currently include Ethernet/IP™ and ControlNet™.
Configure DeviceNet with a Robotiq Device
First of all, the Robotiq devices that are using the DeviceNet communication protocol are the latest versions of the 2-Finger 85 Adaptive Gripper and the 2-Finger 200 Adaptive Gripper. The 3-Finger Adaptive Gripper will be using the same configuration instruction program, however, this device does not require a Universal Controller.
You need to make sure your controller (if needed) is capable of communicating via DeviceNet. You can identify a Robotiq controller with a DeviceNet communication capability by looking at the last few digits of its name. For example if a Robotiq Universal Controller is DeviceNet ready, its name will be: UNI-CTR-001-DNET. The controller will then have a 5 pin Combicon plug-in capable of receiving the appropriate wires.

The DeviceNet and Universal Controller use a separate 24V power supply. If you use several devices on your line, make sure your DeviceNet has its own 24VDC power supply. The DeviceNet cable should only be grounded at one spot on the line, but grounding is important. So, make sure to connect the network Shield and Drain wire to an earth ground using #8 AWG wire up to a maximum 3m in length. Also connect the V- conductor (Black Wire) of the network trunk cable and the DC ground of the power supply to this ground connection.
DeviceNet standards require a 120 Ohms resistor to be mounted at the beginning and at the end of the line. Robotiq recommends that if the Gripper is at the end of the line, the terminating resistor needs to be connected between pin 4 and 5. You can also take a look at the following figure to have a better idea.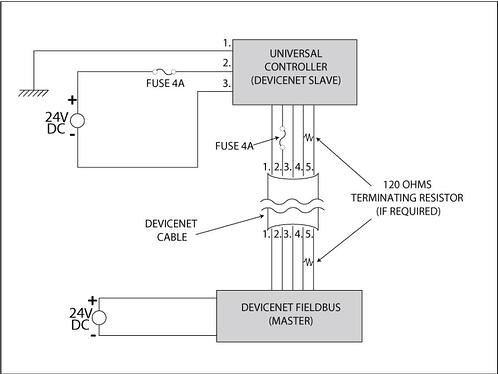 The installation of the terminating resistor eliminates the signal reflection effect on the line. In fact, since this effect can damage your devices, it is really important to connect this resistor correctly.
You should note that there is no terminating resistor mounted in the Gripper and that the shield of the cable must be grounded in the robot controller. Make sure to take a look at the Universal Controller User Manual and the accompanying Gripper User Manual on our support page to double check your connections.
DeviceNet References
As I mentioned at the beginning of this article, we do not claim to be communication protocol specialists. So for further information on DeviceNet and related libraries, go to: odva.org
For further questions or troubleshooting advice, the following links should be helpful:
By recognizing the importance of above grounding advice particularly your Gripper should be all set and ready to recognize the DeviceNet communication protocol. Also it is fun to remember that not frying your equipment will make for a much more productive working environment. For further information, go to our support website or give us a call.