Human-Robot System Detects Gas Leaks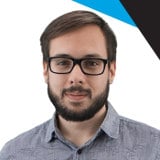 by
Olivier Grenier-Lafond
. Last updated on May 05, 2016 5:11 PM
Posted on Aug 13, 2014 8:00 AM. 2 min read time
Efficient and effective maintenance is crucial for every industry. In the case of industries with intensive capital investments, it is even more relevant. For these industries, proper maintenance has an important impact on their operation costs during the long life cycle of their production.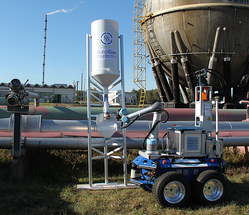 Often there are a huge number of elements to inspect. Pipes, valves, switches, pumps, vessels, motors, vibrating machinery, chillers, ovens, etc. Aside from the traditional maintenance problems of any industrial installation, this kind of facilities presents other additional challenging characteristics:
Multiple inspection technologies to be used:

visual inspection (leaks, corrosion, paint condition, insulation condition, misalignments,...), thickness measurements (corrosion) mainly using ultrasonic tests, vibration measurement, radiography, thermography, eddy current monitoring, noise analysis, gas sensors, etc.
Extensive production facilities

. This kind of plants spreads out for thousands of square meters, conducting pipes account for several tenths of kilometers and it is not infrequent to find chimneys of considerable height.
Risky working conditions

for maintenance personnel due to the presence of hazardous materials (in case of inhalation or contact), high voltage elements and wires, a need to work at a significant height, etc.
Currently, the most common way to maintain properly working equipment is the implementation of a preventive maintenance plan. Many times maintenance tasks are supported by a previous inspection task of the equipment. But preventive maintenance or inspections have the same disadvantages: they are usually scheduled at fixed intervals and require a large number of material and human resources.
The RoboGasInspector Project
The RoboGasInspector Project was designed to avoid harm to humans, the environment and capital goods. More specifically, this project deals with hazardous or explosive gases that are possibly escaping from industrial and infrastructure facilities of the gas and oil processing industry. It is imperative that those gases are detected and located quickly and reliably. The Project RoboGasInspector aims at the development and evaluation of a human-robot system that applies autonomous robots equipped with remote gas detection devices to discover and locate gas leaks.
With the contribution of the University of Kassel, a video was produced demonstrating the evolution of the project, where
Robotiq Adaptive Grippers
were used due to their flexibility.
The findings of the research group determined that, in general, the newly implemented interaction concepts perform better when compared to the conventional ones that are presently being used in contemporary, actually applied robot systems. The report also analyzes the reasons for the results, as well as discussing other approaches for further improvements. We are always proud to see our flexible Grippers used in such research projects and we are looking forward to the further development of this project.