Teaching Welding Robots by Demonstration - Kinetiq Teaching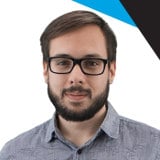 by
Olivier Grenier-Lafond
. Last updated on May 05, 2016 5:09 PM
Posted on Jun 30, 2014 9:00 AM. 2 min read time
Programming a robotic welding cell has never been easier with our newest How–to video showing Kinetiq Teaching, a new technology to quickly and easily task welding robots without requiring in-depth programming knowledge. This visual approach takes you step by step through the programming of a linear welding path for welding automation.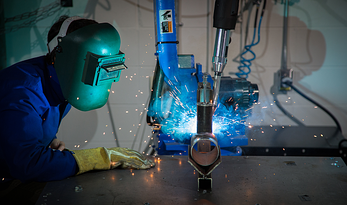 Why Kinetiq Teaching?
Kinetiq Teaching enables job shops to easily implement robotic welding with simplified teaching and reduced set-up time by allowing operators to guide the robot by hand to the desired weld positions. An icon-based menu is presented on the teach pendant's color touch screen which allows the operator to define the task. These features greatly reduce programming time and increase accessibility to operators or welders who do not have any in-depth robot programming knowledge.
How it works?
With Kinetiq Teaching, the welder moves the robotic welding tip next to a workpiece by physically hand-guiding the welding robot. Once the welding point is reached, the welder determines the welding parameters through a touch screen interface. Once all the points are recorded, the welder can playback the programmed trajectory and modify it on-the-fly. By doing so, experienced welders will be able to set welding jobs and oversee the production of more than one robotic welder at a time, or train less skilled operators to program the welding robot and act as a technical adviser and quality assurance resource.
To get more information or specific details about the functionalities of Kinetiq Teaching, you can get the white paper here.
Increased competitiveness
"Major challenges for robotic welding in manufacturing are related to the shortage of available welders and the difficulty of achieving a compelling ROI for smaller companies. Kinetiq Teaching changes the equation, and manufacturing companies will be able to automate welding jobs by using only their in-house welding expertise. It opens the door to robotic welding at small and medium manufacturers, with high-mix and low-volume welding," says Chris Anderson, Welding Product Marketing Manager at Yaskawa Motoman.
According to the American Welding Society, 40% of manufacturing companies declined new contracts due to insufficient availability of skilled workers. Furthermore, 90% of all manufacturing companies lack robotic installations due to a lack of flexibility. Kinetiq Teaching is the solution to these issues and will also, increase the competitiveness of manufacturing companies, especially those with high-mix and low-volume welding.
3 benefits of Kinetiq Teaching:
Allow any operator to intuitively program the welding robot
Save 20-50% on robot programming time

Quick ROI for high-mix, low-volume applications