Industrial Robot Flexibility: The Key To Lean Manufacturing?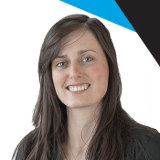 by
Catherine Bernier
. Last updated on May 05, 2016 5:10 PM
Posted on Aug 20, 2013 1:54 PM. 3 min read time
Flexible solutions will help small and medium manufacturers (SMM) to meet today's market demands and stay efficient. SMM productions are often characterized by small volumes and a high mix of parts. Flexibility should be the number one criterion in this case. Here is another interesting fact, flexibility is in fact the key to lean manufacturing. You may have heard of it before because of its popularity with manufacturing management. Industrial robots and robotic devices are ideal for lean manufacturing and here are the reasons why.
Lean manufacturing
This manufacturing management system is about producing more efficiently with less resources. It is characterized by low inventories and as-needed production. This system shortens lead time and lowers cost by eliminating non-value waste. This philosophy was developed out of the Toyota Production System that brought small manufacturing to the world-class company we all know.
Through this system, Toyota tried to eliminate waste in the following 7 areas: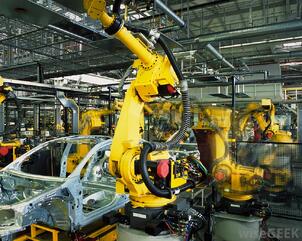 Transport (moving products not required for processing)

Inventory (all products; in process, finished, or are not being processed)

Motion (unnecessary displacement of employees or equipment)

Waiting (for the next production step)

Overproduction

Over processing

Defects (effort involved to detect or repair defects)
Industrial Robot's help towards lean manufacturing
When considering the robotic solutions of today, it is easy to demonstrate that robots with their flexibility are the key to lean manufacturing.
They can produce quality products with consistency and therefore, reduce waste. Since they are accurate, they also reduce scrap. Their speed increases the production rate and reduces wait time. They can work non-stop and perform several tasks in a cycle. They are also less expensive than human workers, especially when it comes to overtime. When it comes to their flexibility, robots and their end effectors reduce training and changeover time.
Different types of industrial robots have a single tool mounted on a single arm. The robot can be more efficient that a human worker, but the lack of flexibility can limit its capabilities. To overcome this problem, companies use tool changers to be able to perform multiple tasks. Once again, this may improve flexibility, but it also increases cycle time. Even with a couple of seconds per changeover, a high-mix production with a low volume of parts, will have a lot of changeovers and then at the end of the day, this can result in significant time waste. This is why flexible tooling is important to consider.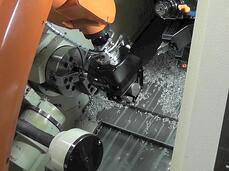 More and more solutions are brought to the market each day. New flexible end effectors can therefore be the right solution to help develop lean manufacturing for small or medium size companies. Robotiq's end effectors are adaptive robot grippers that can adapt to many types of shapes or sizes. Also, they have several different grasping styles. See how you could benefit from their adaptability by taking a look at their specifications: Comparison chart. Moreover, you can check out the ROI calculator to see if our adaptive gripping solutions meet your needs.