Robotic Simulation Software : V-REP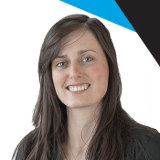 by
Catherine Bernier
. Last updated on May 05, 2016 5:11 PM
Posted on Jul 18, 2014 12:02 PM. 4 min read time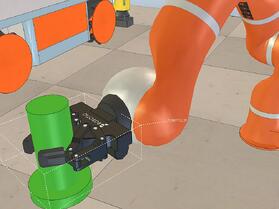 A lot of technologies have been developed over the years to robotize manufacturing processes. Today, there are many manufacturers and even more products to fulfill any need in robotics. Different integrations between products can be made in order to create the perfect robotic device for any intended application. For example, you could use a robot arm with an end effector installed on a mobile platform and make it move around the shop. But, since there are many different products on the market, it might be quite puzzling to find the right fit. Coppelia Robotics offers a great solution to simulate your robotic cell : V-REP, virtual robot experimentation platform.
This software has many features to help you experiment with your installation before buying your robotic devices.
Features
Coppelia Robotics presents V-REP as the "Swiss army knife" among robotic simulators since it has more functions, features and more elaborate APIs than any other software. Here is an overview of its features.
Cross platform (Windows, MacOSX, Linux)

6 programming approaches (embedded scripts, plugins, add-ons, ROS nodes, remote API clients, or custom solutions)

6 programming languages (C/C++, Python, Java, Lua, Matlab, and Urbi)

More than 400 different API functions

ROS Interface (100 ROS services, 30 ROS publisher types, 25 ROS subscriber types, extendable capabilities)

2 physics engines (ODE and Bullet)

Full kinematics solver (IK and FK for ANY mechanisms)

Mesh-mesh interference detection

Mesh-mesh minimum distance calculation

Path planning (holonomic in 2-6 dimensions, non-holonomic for car-like vehicles)

Vision sensors with built-in image processing (fully extendable)

Realistic proximity sensors (minimum distance calculation within a detection volume)

Built-in custom user interfaces, including editor

Fully integrated Reflexxes Motion Library, type 4

Surface cutting simulation

Data recording and visualization (time graphs, X/Y graph or 3D curves)

Integrated shape edit modes

Dynamic particles for water or air jet simulation

Model browser with drag-and-drop functionality (also during simulation)

Multi-level undo/redo, movie recorder, simulation of paint dispensing, exhaustive documentation, etc.
Model Browser
This feature is quite interesting because a complete library of robots, end effectors, mobile platforms, conveyors and more can be add to the software to speedily set up simulations. The simple drag-and-drop action during a simulation will help any user to quickly see if the integration is possible.
Here is an example where the Robotiq 2-finger Adaptive Gripper - 85 was used for a simulation with KUKA LWR 4+.
In conclusion, this software is also available in an open source version. So, this tool can be very useful for finding the best cell configuration and the best integration between the various robotic devices on the market.