Robotic Machine Tending: Advantages and White Paper!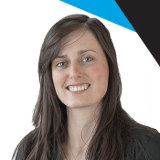 by
Catherine Bernier
. Last updated on Jul 11, 2022 8:57 AM
Posted on Jun 13, 2013 10:51 AM. 3 min read time
Nowadays, the constant pressure of productivity and cost efficiency are part of the manufacturing industry. In order to stay in business, manufacturers have to find more and more ways to always improve their production line. Automating the fabrication process already exists, but how to save more time and money on the line? Robotic machine tending should be the next step in production line automation.
Reduce cycle time
Even if the fabrication is automatic, a worker is often needed to feed those machines. The pace of production is still controlled by the pace of a human. Using a robot to do machine tending will save a little time each cycle. Saving a few seconds per cycle, may result in a significant increase in production over weeks and months. Moreover, a robotic tending device can process work 24 hours a day, 7 days a week without tiring.
Save money
Talking about cycle time, it has a direct relation to your production costs. Also, labor costs can go down substantially, because one worker can take care of more than one robot. A machine tending robot would also be less expensive than a specially designed feeding device and it is more flexible, since it can be adapted to more than one type of piece. Combined with a flexible Robot Gripper, no more extra tooling is needed.
Save space
Manufacturers often think that a machine tending robot has to be placed in front of the machine. On the contrary, the robot can be installed overhead and can even serve two machines at a time. Robots tend to be more compact and flexible, they can therefore be installed inside the machine (for big CNC machine of course!). This will save a lot of space on the shop floor.
Cons to consider
Even if there are a lot of advantages to having a machine tending robot, some cons have to be considered. The initial cost of the robot is usually high, from $100,000 to $250,000. Moreover, the robot needs maintenance unlike a human. Also, the robot will not do visual inspection of the piece when unloading the machine. However, a vision inspection system costs about $15,000 to $50,000.
Give flexibility to your machine tending robot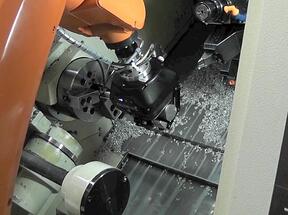 Some say: that a disadvantage might be that a robot can have a hard time handling different types of pieces, we at Robotiq, say: this isn't true. Combining the robot with an electric end effector from Robotiq will give the flexibility needed to insure a fast ROI by eliminating expensive tooling and fixturing. The Robotiq Electric Grippers mechanically intelligent fingers can adapt to any size and kind of object. Since no more changeover is needed, your production costs and time will be reduced.
For more information: Machine tending