Top 5 Advantages of Robotic Welding
by
Guillaume Robert
. Last updated on May 05, 2016 5:09 PM
Posted on Feb 20, 2013 4:50 PM. 2 min read time
Robotic welding is becoming increasingly attractive for job shops and contract manufacturers because experienced welders can oversee the productivity of more than one robotic welder at a time. Robotic welding offers the following advantages to manufacturers who need to change production tasks repeatedly:
1. Robotic welding allows you to use an available labor pool for a minimal price
Manual welding personnel are expensive and difficult to find, train, and retain. With a robotic welder you can optimize your staff by having one great welder supervising the work of several automated cells instead having to find and train a lot of welders for the job.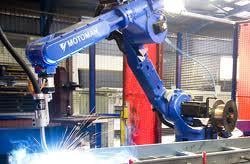 2. Higher yields and throughput
Automation can routinely place the same quality welds in the same spots, over and over again, with minimal human error, eliminating the repetative boring jobs which could be a factor in welder turnover.
3. Less post-weld cleanup
Robotic welding can be very precise allowing for less weld spattering and neater seams.
4. Lower the cost of consumable materials
Filler material and weld wire are used more economically, and less wastefully, with robotic welding thereby reducing the overall cost of the product.
5. Reduction in total time to market
Parts move through the system more quickly with repeatable part placement and routines set for the robotic welder, allowing for potentially increased production.
A solution to in-depth knowledge required to program a robot welder: Kinetiq Teaching
However, the in-depth knowledge required to program a robotic welder and the time related to set up runs is often a block to the implementation of welding robots. This is why Robotiq has designed a new robot accessory, called Kinetiq Teaching. Easy to fasten to the end linkage of a robotic arm, this device makes it easy to teach the welding robot its required trajectories by: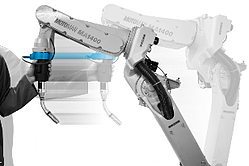 1. Hand-guiding the robot arm and recording the positioning of spot and line welds.
2. Adjusting welding parameters and playback trajectories.
3. Watching the robot perform its welding task.

With Kinetiq Teaching, Robotic welding no longer requires programming; current machinist and welding staff can freely guide the robot arm through its workflow by hand, resulting in easy adjustment of location and angular approach to multiple spot and line welds along a work piece.

To get more information to go the Kinetiq Teaching webpage.