What's New In Robotics This Week? 12.10.2018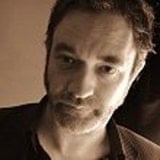 by
Emmet Cole
. Last updated on Oct 17, 2018 10:20 AM
Posted on Oct 12, 2018 7:00 AM. 9 min read time
-Manufacturing & Cobot News
-Rethink Robotics: The Aftermath
-Robotiq launches Remote Access
-Meet Mochibot & Eelume
-Pepper prepares for Parliament
-Five vids for Friday
-And much more!
Manufacturing & cobot roundup
Rethink Robotics' sudden closure (news that was just breaking as we prepared for publication last week) has provoked a lot of genuine sadness and reflection throughout the robotics community over the past 7 days.

While few additional details have emerged, IEEE Spectrum observed that its reporters had been hearing of "growing frustration among Rethink's distributors. Some were switching to Universal Robots."
And Machine Design reported: "Rethink's trouble sparked when a specialized order for a China distributor fell through. The company had designed and specialized robots for the Chinese market and were suddenly left with extra inventory that couldn't be sold."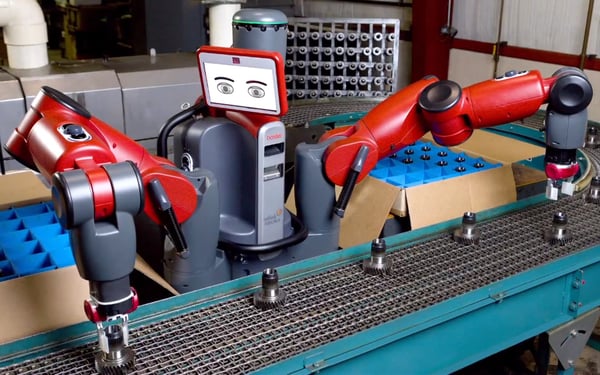 Baxter at work. Credit: Rethink Robotics
A common thread in the commentary has been that Rethink Robotics found it hard to compete against Universal Robots' cobots, which are cheaper, lighter, carry a smaller footprint and offer more precise handling.
Whatever the specifics behind Rethink Robotics' closure, the robotics community has shown great respect for the firm's achievements.
"We have to be thankful to Rethink for generating a lot of awareness and excitement around collaborative robots," said Samuel Bouchard, president, Robotiq. "Without their bold vision and PR impact, the industry would not be where it is today." (H/T The Robot Report)
All is not lost for those cobots already in existence either. As Wired noted, in an excellent piece about Rethink Robotics' cobots in research environments:
The machines will continue laboring as pioneering research platforms. Rethink Robotics is folding, but Baxter will live on, until inevitably something better comes along.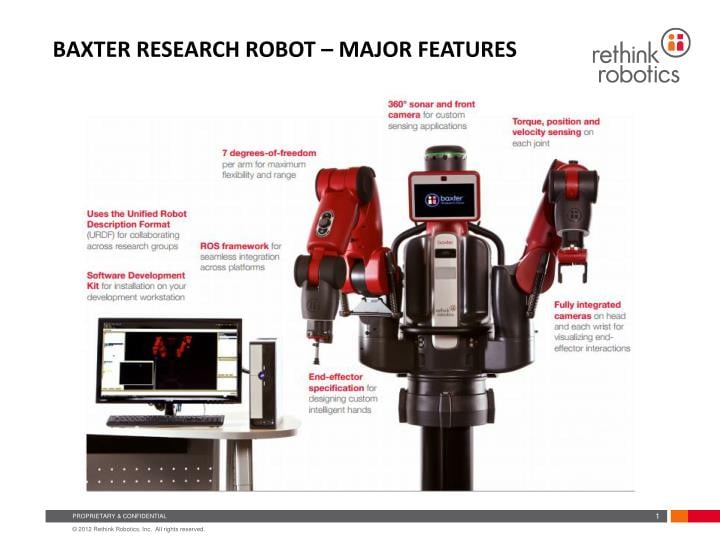 Baxter's many features make it useful for researchers. Credit: Rethink Robotics
And Asian Robotics Review, drawing parallels with Willow Garage's PR2 (the company is closed, but its bots are still very much in use), wondered whether Baxter's "true calling" might be as an educational resource:
Baxter might well thrive as a high-end, training machine for future generations of roboticists [...]

At $22K per machine, every college, university and technical training school should have at least one Baxter. If so, that's a ton of potential sales.
Meanwhile, Universal Robots announced that it will showcase the XPAK ROBOX system at next week's PACK EXPO trade show in Chicago.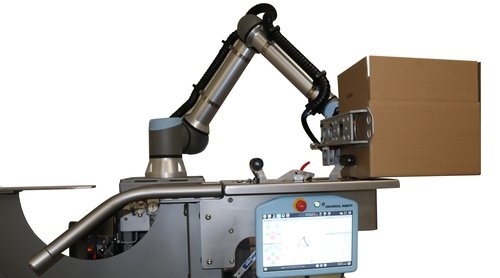 XPAK ROBOX can handle up to 8 boxes per minute. Credit: XPAK
Designed to enable random robotic case erecting, the new system allows packagers to randomly erect any box in their suite on-demand without changeover. UR also announced plans to launch the new PalletizUR, a portable, collaborative palletizing system that features a UR10e cobot with graphic software for simple pallet building.
In a week when Robotiq celebrated the addition of its 100th employee (not long after celebrating 10 years in operation and 10,000 hands freed), the company launched Remote Access for its Insights monitoring software. Remote Access enables users to connect with application experts who can help resolve issues by remotely accessing teach pendant and video streams live from the robot cell.

The global market for cobots will rise at a CAGR of 30% between 2016 and 2024 to cross the US$95 billion mark by the end of the forecast period, according to a new report from analysts Transparency Market Research. Europe is expected to remain the dominant regional market for cobot technologies.
Omron released video showcasing its new cobot series. This one is equipped with a Robotiq gripper...
Elsewhere...
The UK's Commons Education Select Committee has invited humanoid robot Pepper to appear to give evidence at a parliamentary hearing next week on artificial intelligence, robotics and the fourth industrial revolution. Pepper will become the first non-human to give evidence to a UK parliamentary committee.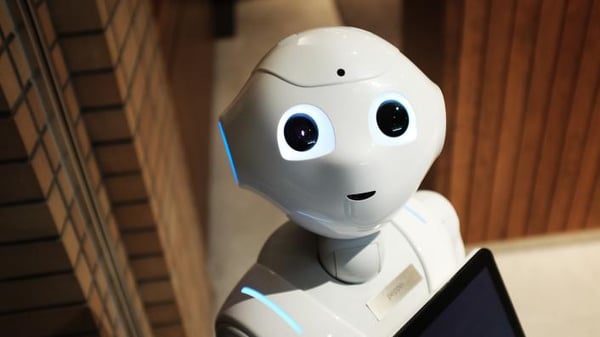 From The Kanagawa Incident to the UK's Houses of Parliament, it's been a meteoric rise for Pepper. Credit: SoftBank
Via The Independent:
Committee chair Robert Halfon told Tes that with experts predicting that jobs will be lost to automation in the near future, the inquiry topic was important.

"If we've got the march of the robots, we perhaps need the march of the robots to our select committee to give evidence," Mr Halfon said.
Pepper's forthcoming appearance before British law makers is a fun story, but it raises some interesting questions: what is the legal status of evidence given to a UK parliamentary committee by a non-human? If giving evidence is not limited to legal 'persons' then what are the criteria for the admissibility of evidence provided by non-humans? Can other non-humans now give evidence to UK parliamentary committees?
Would it be a little more accurate to say that a person (or persons) will be providing evidence via a non-person, Pepper? Finally, does this move strengthen, albeit in a small way, the claims of those that would like to see legal personhood status granted to robots?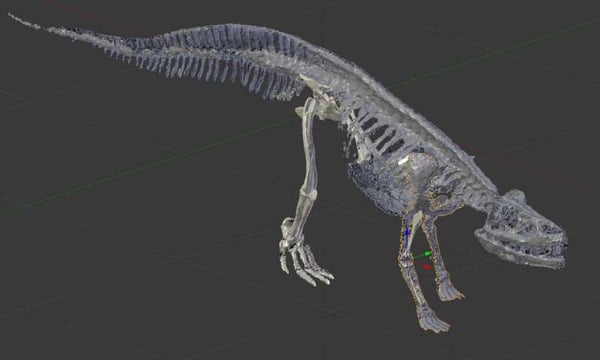 New research on extinct archosaur motion could improve bio-inspired robot designs. Credit: John Hutchinson
Researchers are using computer simulations to estimate how 11 different species of extinct archosaurs (a group that includes crocodiles, birds, dinosaurs and their relatives) moved around. Their research could assist in the development of stronger robots. (H/T PhysOrg)
Meet Eelume: a flexible, prototype inspection and repair robot designed by Statoil, Kongsberg Maritime, and researchers from the Norwegian University of Science and Technology.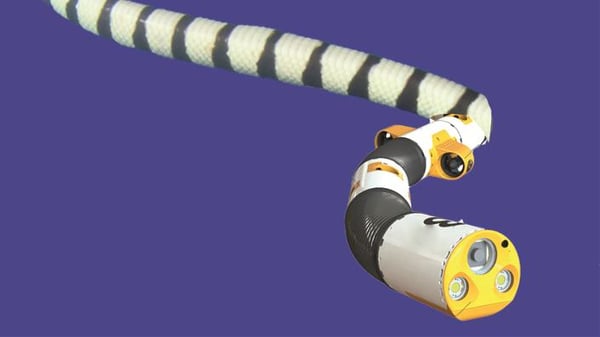 The Eelume can swim from side-to-side like a sea snake. Credit: Eelume AS/ composite
Via The Institute of Mechnical Engineers:
Its ability to twist and turn lets it travel through previously inaccessible gaps and wrap around installations. A modular configuration lets operators place joints, thrusters, maintenance tools and more where needed – a camera towards the back, for example, provides a great viewpoint for inspection and repair work.
"If you really want to go where someone has never been, you want to be with the robots," says NASA JPL engineer, Nagin Cox. Read this roboticist's story here.
As sharks swim closer to shore, governments are turning to drones and AI to tackle the problem. Shark Shield, for example, in an autonomous vehicle that emits a "three-dimensional force field that causes unbearable spasms in a shark's sensory systems, prompting the animal to turn away from its prey." (H/T Bloomberg)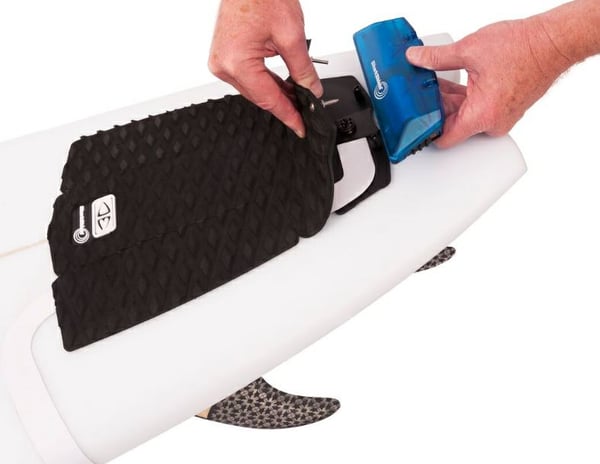 Just when you thought it was safe to be a shark. Credit: Ocean Guardian
In other reading:
Come back next week for more of the latest robotics news, from cobots and industrial automation to bio-inspired robots and beyond!
Until then...

Five vids for Friday
1. Meet Mochibot: a spherical robot made of 32 individually actuated telescoping legs that can move over difficult terrain by morphing its body shape. (H/T IEEE Spectrum)
2. Boston Dynamics released an amazing short video Thursday that shows bipedal humanoid Atlas robot jumping over a log before leaping to the top of a set of staggered boxes. (H/T The Verge)


3. Acronym designer Errolson Hugh and YouTuber Nick Andrew joined teams from the Technical University of Munich and the University of Pisa, to take part in a time attack challenge as proof of concept for Roborace's first race season, Season Alpha, starting 2019.
4. The German Research Center for Artificial Intelligence has just released video of the SherpaTT system being driven in the Mars-like terrain of the Utah desert.
5. The latest episode of ART + TECHNOLOGY features the work of Maria Yablonina, an artist, researcher and designer working in the field of robotic fabrication.