What's New In Robotics? 28.06.2019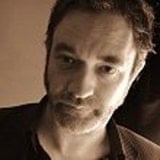 by
Emmet Cole
. Last updated on Jun 28, 2019 7:09 AM
Posted on Jun 28, 2019 6:54 AM. 7 min read time
Good morning. In this week's news mix: Bosch invests in MegaRobo, Stanford's new training system for bots, and Elephant Robotics launches new cobot. We also marvel at Cue 3's basketball skills, gawk at the <1 sec. flight of the RoboBee (X-Wing) and much more!
Cobots & manufacturing
Robert Bosch Venture Capital has led a growth financing round in MegaRobo., a Chinese cobot maker that "integrates cutting-edge machine vision and Artificial Intelligence to provide modular and affordable automation solutions for lab automation, smart retail and light industrial sectors." (H/T Automotive World)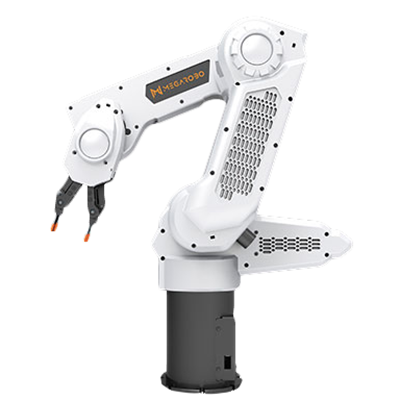 The MEGAROBO MRX-T4 has a 3kg payload and a reach of 505mm. Credit: MegaRobo
Kawasaki has released new video showing off its duAro 2 cobot...
Researchers at Stanford have developed a new training system for robots that combines end-user surveys with teaching-by-demonstration techniques and could be used to further improve human-robot collaboration. (H/T Stanford News Service)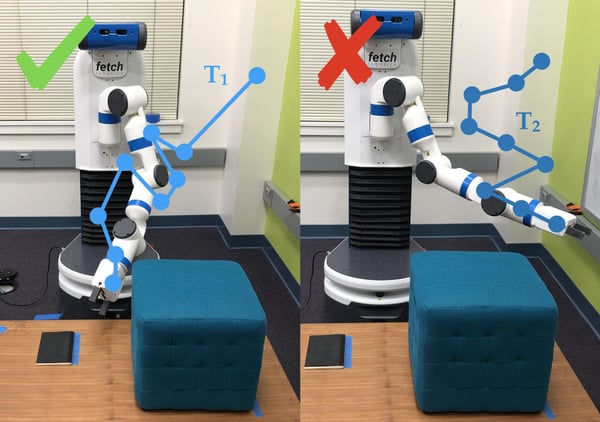 An example of how the robot arm uses survey questions to determine the preferences
of the person using it. In this case, the person prefers trajectory #1 (T1) over trajectory #2.
Credit: Andy Palan and Gleb Shevchuk
A new Oxford Economics report about labor displacement through automation predicts that 20 million jobs will be lost over the next decade due to roboticization and estimates that for each new robot installed, 1.6 manufacturing workers are displaced. In an interview on BBC Radio this week, however, Oxford Economics' James Lambert, director of economic consulting, Asia, identified the emergence of cobots as a positive counterpoint to technological pessimism. Via EnterpriseAI:
"There are many opportunities that emerge from the transformation in the way we do things," Lambert said. "So within a production line, for example, you see a new breed of 'co-bots,' which are collaborative robots that work with humans on the production line. Also, as you can imagine, it generates jobs in the design of technology, and in installation and maintenance."
China-based Elephant Robotics officially launched its Catbot (payload, 3kg; reach 600mm) for pre-order this week. "A next-generation collaborative robot arm offering high efficiency and flexibility." The Catbot will be available in August 2019, Robotics Business Review reported...


In other cobot and manufacturing news:
Elsewhere...
A technician at Nissan in Japan has created a prototype, duck-inspired robot that roams rice paddies, "muddying the water to prevent weeds from getting enough sunlight to grow."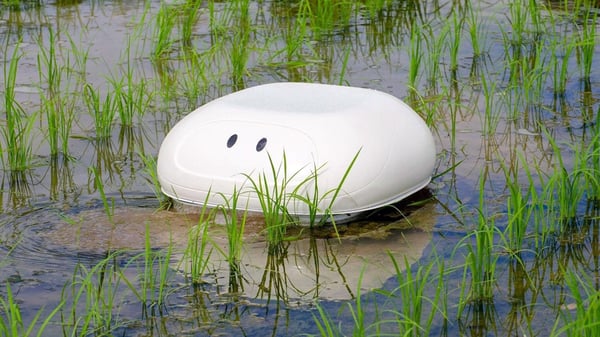 Credit: Nissan
Via engadget:
Nissan hasn't signaled intentions to mass-produce the robot. It does support the technician's efforts, though, so it may just be a matter of time before you see this adorable bot patrolling paddies.
Meanwhile, it was reported this week that Sandia National Lab is using a combination of crawling robots and drones for wind blade inspections.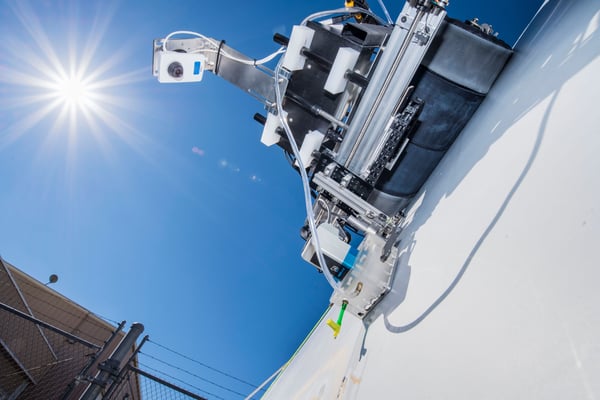 Credit: Randy Montoya
Via PhysOrg:
Sandia and partners International Climbing Machines and Dophitech built a crawling robot inspired by the machines that inspect dams. The robot can move from side-to-side up and down a wind blade, like someone mowing a lawn. On-board cameras provide real-time, high-fidelity images to detect surface damage, as well as small demarcations that may signal larger, subsurface damage. While moving, the robot also uses a wand to scan the blade for damage using phased array ultrasonic imaging.
And Reuters reported on 'Bike and Snake' --a pair of inspection robots that help to keep Norway's gas flowing: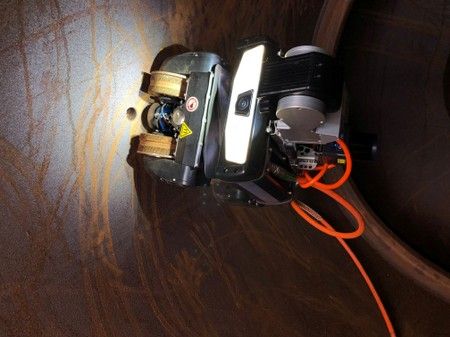 Bike at work in the Norsea Gas Terminal. Credit: Reuters
"The pre-work and after-work you need to do to prepare the vessel to be safe and send an inspector in there take time and are costly ... Now we have reduced this time by 50-80%," said Haakon Hilmar Ferkingstad, senior engineer at Gassco.
Meanwhile, in other headlines:


Come back next week for more of the latest robotics news! Until then, please enjoy...



Five vids for Friday
1. It's official. A basketball-shooting robot developed by engineers at Toyota has clinched the Guinness World Record for 'most consecutive basketball free throws by a humanoid robot (assisted).' (H/T Futurism)


2. Harvard's RoboBee just got some major upgrades (and a name change). Meet RoboBee X-Wing, complete with solar cells and an extra pair of wings. The batteryless device is the lightest aerial vehicle to manage sustained untethered flight. (H/T Wired)
3. Are you ready for this Jelly robot? Designed and built by UC Berkeley undergraduates, Jelly is a multi-terrain "walk and roll" robot that comes with its own set of bunny ears.
4. Police in California are turning to automation (one of Knightscope's security bots) to help patrol a local park. CBS Miami was there.
5. Engineers at Columbia University, USA have created soft, robotic muscles that are three times stronger than human muscle. (H/T dezeen)