What's New In Robotics? 26.04.2019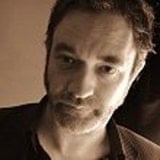 by
Emmet Cole
. Last updated on Apr 26, 2019 7:14 AM
Posted on Apr 26, 2019 6:59 AM. 8 min read time
Good morning. In this week's news mix: Locus Robotics raises US$26m Series C, NIOSH joins ARM, and cobots leading to business expansion. We also admire the world's-first autonomous medical microbot, hang out with Apple's 'Daisy,' use a prototype bot to catch rubber ducks and much more!
Cobots & manufacturing
Locus Robotics, a Boston-based company that makes autonomous mobile cobots for e-commerce warehouses, announced this week that it has raised US$26 million in Series C funding. Benzinga reports:
Investors included Zebra Ventures, the strategic investment arm of Zebra Technologies, and Scale Venture Partners. The round brings the total amount of money Locus has raised since launching in 2014 to $66 million. The new funds will be used to scale its warehouse robotics system, as well as expand sales and marketing in North America and internationally.
In new video, KUKA's vice-president of sales North America, Simon Whitton spoke with Engineering.com about different levels of human-robot collaboration and how the application (i.e. the process being automated) should drive the nature and extent of cobot deployments...
Most of Universal Robots' customers talk about employing more people as their business grows due to robots, Universal Robots ANZ general manager, Peter Hern told Manufacturer's Monthly:
With collaborative robots, it's a very cost-effective way to improve a manufacturing facility. The customers are seeing a return on investment (ROI) within less than 12 months. It's not like it was in years before, where implementing robotics was hundreds-and-thousands-of-dollars [...] Rather than automation being the realm of major manufacturers, it's coming into the picture for small manufacturers.
Plastics in Packaging reported on Proco Machinery's 'Lat Flat Tooling,' a cobot-based system designed to enable blow moulders to pack plastic bottles on their sides, as opposed to placing them with necks up or down. The company offers two sets of tooling, one for straight neck-to-neck packaging in the box and another for offset neck orientation from row to row. This potentially allows a blow moulder of bottles to pack 270 bottles in a box instead of 250.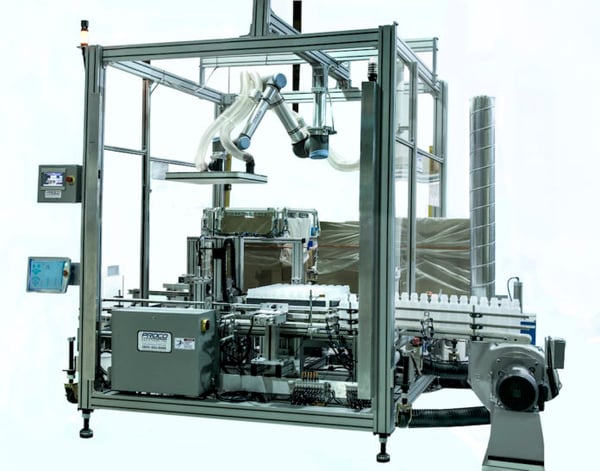 Credit: Proco Machinery
Bruno Adam, director of Omron's mobile robot business in Europe spoke with Robotics & Automation News about Omron's partnership with TechMan Robot, makers of the TM cobot...
The United States' National Institute for Occupational Safety and Health (NIOSH) has announced plans to join Advanced Robotics for Manufacturing --a collaboration between industry, academia, non-profit, and government designed to provide new opportunities for a 21st century workforce "prepared to work collaboratively with robotic technologies in a safe environment." NIOSH conducts research to address the safety of workers who "use, wear, or work near robots."
All advanced cobots are designed for ease of set up and admired for their small footprint, but the 4kg Cobotta, with its payload of .5 kg and 342.5mm reach takes portability to a new level. Engineering.com has been finding out more about this niche cobot arm...
In other cobot news:
Elsewhere...
In a stunning world-first, researchers at Boston Children's Hospital have successfully demonstrated an autonomous robotic catheter that can navigate through the cavities of the heart.
The device, which could lead to the widespread development of tiny self-driving mobile medical robots, navigates using 'haptic vision' -- a hybrid sense that creates images from touch-based surface identification and force sensing.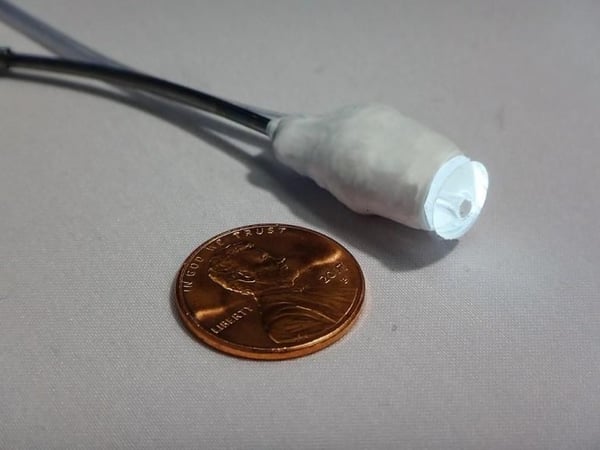 Credit: Boston Children's Hospital | Science Robotics
Via Science Daily:
[Researcher Pierre] Dupont envisions the possibility of autonomous surgical robots all over the world pooling their data to continuously improve performance over time -- much like self-driving vehicles in the field send their data back to Tesla to refine its algorithms.
"This would not only level the playing field, it would raise it," says Dupont. "Every clinician in the world would be operating at a level of skill and experience equivalent to the best in their field. This has always been the promise of medical robots. Autonomy may be what gets us there."
Kraken Robotics has been awarded a CAN$1m contract with the Canadian government for its ThunderFish 300, an autonomous underwater vehicle designed for high-resolution seabed imaging and mapping applications.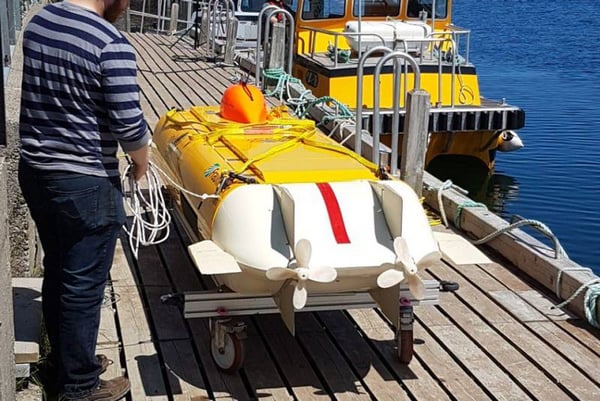 Credit: Kraken Robotics
Via The Telegram:
The ThunderFish 300 was initially pre-qualified in April 2018 under the Canadian government's Build in Canada Innovation Program and, now the contract has been awarded, Kraken expects to deliver the ThunderFish to its test partner, Defense Research and Development Canada (DRDC), in Halifax in the second quarter of this year.
Fancy taking a prototype river-cleaning robot on a test-ride? Want to get a feel for teleoperated robots? Head to the website of Chicago-based startup AltruBots and see how many rubber ducks you can grab before your time runs out.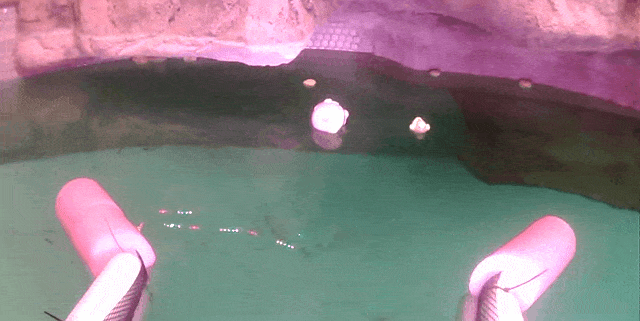 Credit: AltruBots
AltruBots plans to test its prototype in river conditions within the next few months, according to reports.
Meanwhile, in other news:
Come by next week for more of the latest robotics news! Until then, please enjoy...


Five vids for Friday
1. Researchers at Harvard's School of Engineering and Applied Sciences have created a new and improved version of a snake-inspired soft robot that is both faster and more precise than its predecessor. The robot is made using kirigami — a Japanese paper craft that relies on cuts to change the properties of a material.
2. c|net released video this week that goes behind the scenes with Apple's famous, 33-foot-long iPhone recycling robot 'Daisy.' Daisy can pull 200 iPhones apart per hour.
3. The newest US high school sport is robotics. Good Morning America reports on a sport in which "every kid can go pro"...
4. Researchers have developed origami-inspired micro-robots that can fold into different shapes—allowing these tiny bots to grasp and crawl—using magnets as remote controls. (Science Mag has more.)
5. Elon Musk recently claimed that there will be one million robotaxis on the road by 2020. CNBC analysts pondered the implications...