What's New in Robotics? 22.12.2021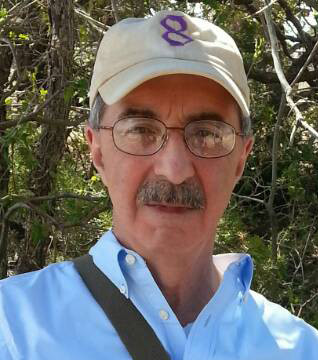 by
Tom Green
. Last updated on Dec 22, 2021 10:29 AM
Posted on Dec 22, 2021 9:17 AM. 9 min read time
News briefs for the week take a look at graffiti-eating robots, 5G-enabled AMRs scaling worldwide, the exosuit for the rest of us, four-sided mobile signage, robots disrupting the landscape industry, robots and the coming infrastructure bonanza.

Graffiti-removing robot
With graffiti removal in the U.S. costing $12 billion annually, and with lots of the spray-can eyesores in dangerously inaccessible places, it would seem like a good idea to get a robot to do the nasty job of graffiti removal.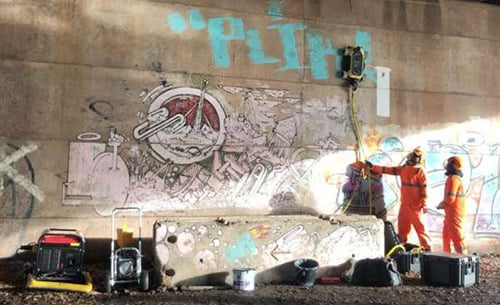 Saving money, avoiding injury, and scaling to almost any height to "de-graffiti" most anything now has a robot champion, the HausBot robot from Birmingham, UK-based HausBots.
HausBot is at home on any vertical wall, and tricked out with cameras, sensors and grippers can also be used for building and infrastructure inspection, maintenance tasks, and surveying.
"One of the key uses of the HausBots is to help reduce the number of workplace accidents. In the U.S. 85,000 workers fall from height every year, of which 700 are fatalities…costing insurance companies in excess of a billion dollars in claims annually."
The idea of the HausBots started in the garage of co-founder and CEO Jack Crone. With the help of nearby University of Warwick on the circuit motor controls, HausBot was porotyped and then turned into a going business.
"We have worked tirelessly over the last three years to make HausBot," said Crone, "and we are incredibly excited to have sold our first one to a company in Singapore."
First-ever 5G-enabled AMRs to scale worldwide
Fresh off a first-ever, 5G-enabled AMR deployment in China, Beijing-based ForwardX is getting ready to scale its vision-based vAMRs worldwide. The company's recent financing round of $31 million, pushing its total to $100 million, will help with the expansion of its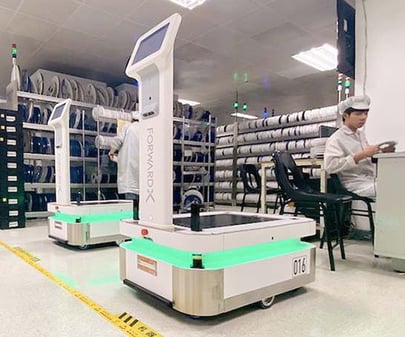 "intelligent" materials handling solutions for both factories and warehouses to Tokyo and the U.S.
Founded in 2016, and previously best known for its OVIS follow-me robot suitcase, ForwardX launched into case-carrying vAMRs designed for labor-heavy, goods-to-person workflows (200kg (440 lbs.) to 600Kg (1300 lbs.)). The intelligent aspects, according to the company are with its "ForwardX Cortex that gives our robots the perception capacity to rival human beings."
ForwardX's Cortex perception technology, the Flex range of AMRs uses sensor fusion to combine visual and laser-based data to localize, map, and navigate through warehouse environments. "Distinct from LiDAR-first solutions, ForwardX Flex AMRs are able to segment their surroundings, detect and identify objects within their environment, and plan more efficient paths to complete tasks."
"E-commerce in the US has seen its 18-month spike become the new base level," said ForwardX's COO, Yaxin Guan, "resulting in accelerated demand for automation, and, with this round of funding, we're in a better position to deliver quality solutions to North American customers."
Real-world exosuit for real-world activities
The exoskeleton, or wearable robot, has been a godsend for the disabled confined to a wheelchair, and lately, as a job aid for those performing heavy lifting or other strenuous activities.
But what about those with lesser disabilities like mild walking difficulty or fatigue from jobs that require long periods of lower-body exertion?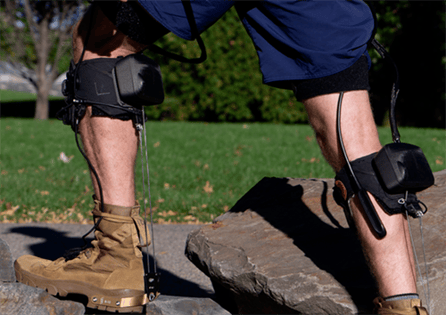 The exoskeleton works best on flat surfaces at slow, constant speeds, reasoned researchers from Harvard's Paulson School of Engineering and Applied Sciences, (SEAS) but what about over uneven surfaces at constantly varying speeds, which is the way most people walk?
This human and task variability is a major challenge in designing wearable robotics to assist or augment walking in real-world conditions.
Enter, the exosuit.
Previously, bioinspired wearable robotics focused on the dynamic movements of the limbs of the wearer. The SEAS researchers took a different approach: "We used ultrasound to look under the skin and directly measured what the user's muscles were doing during several walking tasks," said Richard Nuckol from SEAS.
The research team strapped a portable ultrasound system to the calves of participants and imaged their muscles as they performed a series of walking tasks.
The SEAS methodology and accompanying system "only needs a few seconds of walking" to capture the muscle's profile.
Testing of the exosuit proved that in real-world walking situations, it was able to quickly adapt to most any changes in walking speed, incline, or decline.
Rolling robots as four-sided mobile signage
Most everyone has seen humanoid robots with tablet-size or larger message screens rolling around airports, hotels, malls and hospitals. Newly arrived is an autonomous signage system that's all screens—minus the humanoid robot.
In a first-ever, Palo-Alto-based RoboAds, a startup (2018), has designed a four-screen, mobile robot for indoor advertising and virtual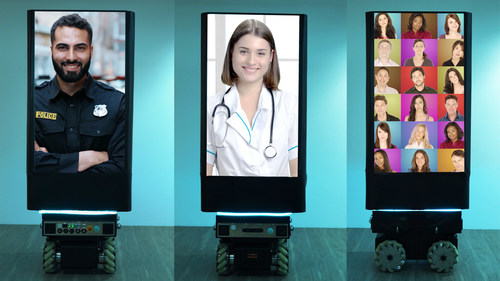 telepresence. The 55-inch quad-screen display system not only allows for full-screen, interactive advertising but also two-way video calls with customer service agents, all at 4K resolution.
RoboAds bills its rolling signage as "a new generation of advertising robots" that combine digital signage, robotics and AI all in a single platform.
RoboSignage, as it is called by its developer, can navigate autonomously or remotely with an operator via a pan-tilt-zoom (PTZ) camera that transmits video in real time. The platform has omnidirectional kinematics, four high-power wheels, and two LiDAR scanners for obstacle avoidance.
RoboAds' CEO, Faysal ElChamaa, reports that the RoboSignage platform's first use was at the 2021 AIBC World Blockchain Summit in Dubai (see video). The platform's rolling, big-screen signage "allows retailers to showcase their products in a digitally evolved setting while reducing the need for physical interaction."
Graze intent on disrupting landscaping industry
Over the past five years the $114.6 billion (2021) U.S. landscaping industry grew faster than the overall U.S. economy, but has encountered issues with labor availability and costs, plus rising fuel prices that are a drag on future growth.
A Silicon Beach startup, Future Labs V, Inc., doing business as Graze, develops autonomous, all-electric, commercial lawnmowers that the company believes can significantly disrupt the U.S. landscaping industry.
Graze claims on its website: "Safely avoiding obstacles, while using machine learning to plan more efficient routes over time…it [a Graze mower] costs 50 percent less than human labor, and runs on quiet electric power, cutting fuel costs by up to 75 percent, while generating zero carbon emissions.
"Its 53-inch cutting deck is nearly six times the size of any other robotic mower and its fully-autonomous operation allows for no embedded ground wires or beacons for guidance."

Graze recently added solar panels to its electric power options.
The startup reports that it raised more than $5.5 million in capital from 4,000 investors, including a $500-million VC investment from Los Angeles-based Wavemaker Partners. Additionally, a total of 215 mowers were pre-ordered by industry leaders Mainscape and Miranda's Landscape, as well as Sundale Country Club.
ZeroHedge reports that Graze has pre-sold $19 million worth of its AI-powered lawnmowers.
Robots, rebar and an infrastructure bonanza
With the recent passage of the $1 trillion U.S. Infrastructure Investment and Jobs Act, billions of dollars will become available for repairs or new construction for bridges, buildings, ports, airports, and roadway systems. All of which will take tons of concrete; concrete that will most times need to be reinforced with embedded cages made of metal rods called rebar.
Making rebar cages is a dangerous, fatiguing, inefficient and slow process that is worked exclusively by manual labor. Now however, two Brooklyn-based robotics entrepreneurs are using their robots to perform the rebar cage making.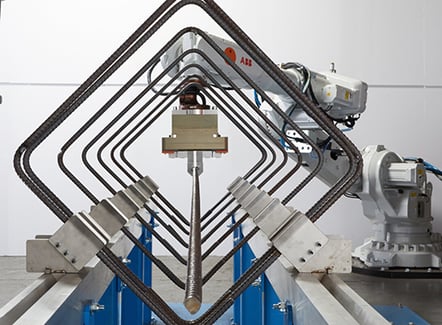 Still in its early stages, the technology allows the robot to do "the dangerous work and heavy lifting, picking up and manipulating the bars, while the human does just the final wire tying."
Ian Cohen and Daniel Blank, co-founders of Toggle, claim that their full stack robotics and automation solution for "rebar fabrication and assembly multiplies labor productivity by 3x and increases overall production 5x over traditional assembly methods."
Toggle just scored an $8 million investment to help scale the tech; and already its robots are currently being put to work, fabricating rebar for projects in New York City and the surrounding area.
"At a time when global construction is accelerating to an unprecedented pace, Toggle offers a way to add capacity while saving time and cost on some of the largest types of projects," says co-founder and CEO Daniel Blank.