What's New in Robotics? 03.06.2022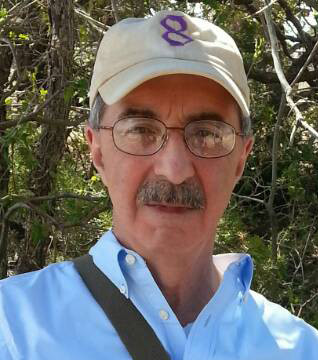 by
Tom Green
. Last updated on Jun 03, 2022 10:30 AM
Posted on Jun 03, 2022 10:30 AM. 6 min read time
News briefs for the week take a look at the return of Automate to Detroit after 23 years in Chicago and the celebratory homecoming event going on there from 6 to 9 June.

Automate returns…big time! 6-9 June 2022 (Detroit)
Bing, bang, boom! All in a row, the big boys of robot/automation events, Hannover Messe, Automate, and AUTOMATICA are all back on the big stage for 2022. Back with verve, energy, and a sense of immediacy.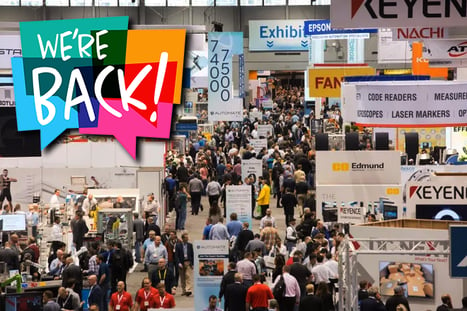 For North America, Automate is back and brimming with anticipation. There's a dynamic to Automate's online messaging for 2022 almost akin to a Tony Robbins' Unleash the Power.
With flashing messages across a full-screen of blitzing automation imagery, Automate urges everyone lost since COVID to rebound and come back better than ever: "Get Inspired" "Fuel Your Progress" "Get Ready to Transform" is the outreach Automate uses to fuel its self-proclaimed "largest and most inspiring showcase of automation in North America."
Maybe pent-up expectation is partly driving Automate's homecoming. Everyone seems exuberant about a return to live events and wants to reconnect face to face.
With 20,000 from 70 countries as expected attendees, 500 exhibitors, plus a 100-speaker conference, as well as scads of keynotes from industry well-knowns to TV's Shark Tank biggie Daymond John, Automate is easily the biggest and most prestigious automation tradeshow on the continent…plus a notable teaching/learning/accreditation venue as well:

The renewed personal touch is what draws Mark Lewandowski, Director of Robotics Innovation at Procter & Gamble: "To be able to see and meet people who are in the industry who are working on technologies and things that are of interest to me personally and to our company, and to be able to meet them face to face, just make those connections. That's the biggest thing."
In the beginning
Face-to-face contact and networking seem to be the recurring allure that Automate evokes in attendees dating all the way back to its inception, when it was called the Robots Show in 1976. In 1977, as the renamed International Robots, Vision & Motion Control Show, "It bounced back and forth between Chicago and Detroit, with a final show in Detroit in 1999."
In 2001, it was rebranded under a simpler moniker—Automate—and ever since held every other year in Chicago; there it was collocated at McCormick Place in partnership with event mate ProMat, which billed itself as "North America's largest expo for manufacturing and supply chain professionals."
Paused by the pandemic in 2019, as well as feeling cramped for space in Chicago, Automate looked around for a new home, and eventually returned to its old home in Motor City. After 23 years away, 2022 sees Automate taking up residence in Huntington Place for this year and next, then returning to its odd-year, biennial showings in 2025.
What to look for
Thematically, Automate, as its name shouts out, is all about automation, which is globally what the world's been all about for a decade now. Digital transformation of factories, warehouses, supply chains and just about every workplace everywhere else is undergoing in order to increase competitive productivity, to get bottom lines under control, and to relieve humans of onerous, unnecessary or dangerous workloads.
The tools, processes, and expertise for automation will be spread out over a massive 300,000 square feet of exhibit space.
"Interest in robotics and automation overall is clearly at an all-time high, with robot orders breaking records," says Jeff Burnstein, president of Automate's parent organization, the Michigan-based Association for Advancing Automation, or simply the A3. "Companies from nearly every industry, from automotive manufacturers to aerospace, life sciences, pharmaceuticals, medical device, warehousing, metals, electronics, food and consumer goods, know they need to automate to succeed, even more so as they struggle with labor shortages and supply chain issues.
"More industries recognize that robots can help reverse productivity declines and fill repetitive jobs human workers don't want," he explains. "Now, it is no longer just a choice whether to deploy robots and automation. It's imperative."
Record-setting numbers of industrial robots sold in North America for 2021. The new high is 39,708 units sold, with a combined value of $2 billion, with a 14% increase over the previous high in 2017. Record setting as well is the number of industrial robots now operating in U.S. factories (310,700).
And even better years seem to be ahead for industrial robots worldwide: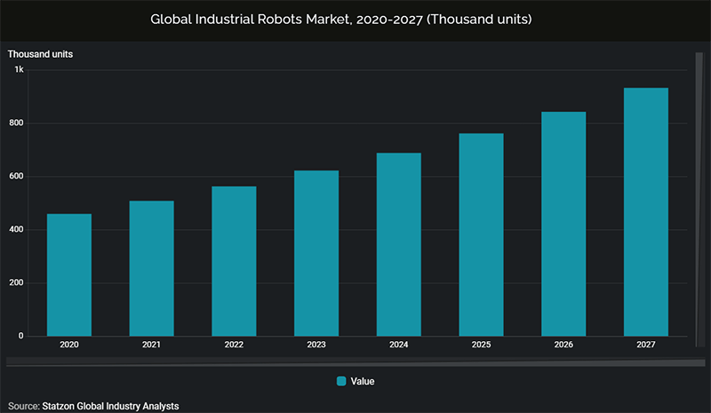 Something for everyone
Exhibit floor
According to A3, there's something for everyone at Automate. The event "caters to companies of all sizes looking for cost-effective technology advancements and those who may be considering automating for the first time. Based on previous show data, thousands of attendees found a solution and nearly half discovered a new vendor at Automate."
The free-to-attend exhibit floor, says Automate, is a virtual ringside seat to what its calling 4 Game-Changing Automation Trends (see free downloadable copy). What's driving automation forward—and faster than ever!
Sensors, vision and motion control technologies quickly evolving the sophistication and capability of robots and cobots.
More cloud and edge computing, and then integrating each to appropriate roles.
More autonomy for robots: "Add more brainpower, in addition to better sight, and you've got automation that requires far less human intervention."
Information technology (IT) to engage better with operational technology (OT).


Conference sessions
There's also something for everyone at the accompanying conference sessions that run for four days; the day pass entry fee $325.
Automate promises that: "Our conference is a game-changing experience for those looking to sharpen their skills or deepen their automation knowledge. Come learn from accomplished industry professionals who are shaping the future of automation and get practical solutions you can leverage right away."
In short, there's a 4-day opportunity going on in Detroit to get up to speed on automation and to see what fits for oneself and one's organization. Automate's five conference tracks.

The agenda goes from basics like: How to Automate: Getting Started with Robotics; or deep-dive topics like How Artificial Intelligence is Powering the Next Wave of Manufacturing.
After 23 years away from Detroit, Automate is promising everyone an outsized event with plenty of hoopla, wonder machines, and non-stop automation talk. Seems like the perfect time to get acquainted or reacquainted with one of the most amazing events in North America.