Skills
SPIRAL SEARCH
The main objective of this program template is to provide a program allowing you to insert a pin or a shaft into a bore. Certain insertion applications require a lot of precision to align the part and the corresponding bore. By using the force data provided by the FT300 sensor, the sense of touch is provided to the robot's skillset.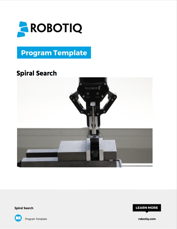 What is provided:
Demo video demonstrating the application of the program template provided.

UR program template.

Step-by-step procedure detailed.