LEARNING KIT: GETTING STARTED WITH COLLABORATIVE ROBOTS

More and more SMEs are counting on collaborative robots to help them incite new hires and retain a qualified workforce, increase their production rate and reduce production costs.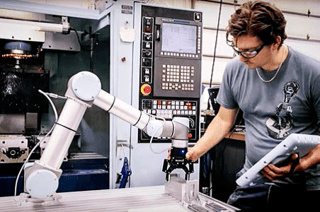 But for most companies with limited resources, it can be difficult to see where to begin with your first cobot project. The answer is that you should start small, get going today and build on your success.
What collaborative robots can do in the manufacturing process

How to identify automation potential in your factory

How to get your workforce onboard with automation and robots

How to assess which manufacturing cells should be automated

How to present your case to management

Fill out the form and get the Learning
Kit:
A 17 page eBook detailing 5 steps which will help you get your first robotics project off the ground

A robotic application documentation guide

A robotic application evaluation checklist
A robotic application PowerPoint presentation template