Cómo convencer a su jefe para utilizar los cobots
¿Ha estado pensando en la automatización por algún tiempo? ¿Se ha imaginado los beneficios que los cobots podrían aportar a su empresa?
But there's just one problem. How do you convince your boss that using cobots is the right way to go? This eBook will help you get your boss on board with your ideas.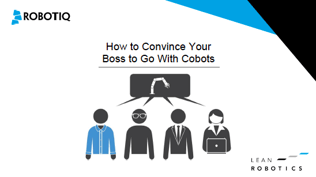 Usted tendrá acceso a:

La estrategia para encontrar el objetivo principal de su jefe
Los pasos para construir su propuesta
Hojas de trabajo e infografías útiles
Ejemplos de presentaciones y lanzamiento de empresas, y correos electrónico
OBTENGA SU LIBRO ELECTRÓNICO