From Machinist to Robot Programmer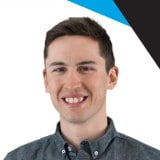 Robots can now work alongside humans. They are now safer than ever and they can reduce the work load or risk of injury related for certain tasks. Yet, there is still a persistent negative impression about robots. In facts, when it's time to introduce a robotic cell in a workshop, the people that are the hardest to convince are the workers themselves. Even though the robot is actually there to help them, to make their job easier and not to steal their job. Take a look at the story of a machinist who became a robot programmer.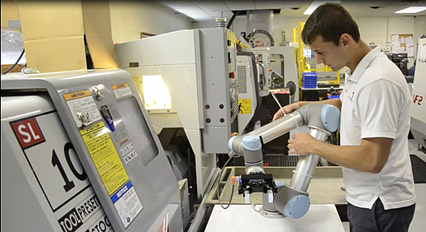 Slobodan Todoric is a machinist that works for Inertia Switch. The New York based company wanted to increase the output and efficiency of its production. As robots are getting cheaper and easier to use, the most logical decision was to put a robot in place to do the machine tending. This workshop has been producing switches for aerospace and electrical products for many years, so they have tons of experience, just not in robotics. They decided to go with a proven set up and Universal Robots has proven its efficiency in terms of machine tending, so they wanted to introduce it into their production line.
What you should know is that even if nobody at Inertia Switch had a specific background in robotics, there is no need for one to work with Universal Robots. The robot is programmed by hand-guiding with a very user-friendly interface. Also, the robot is so easy to program that even small batches can be loaded into the machine. Take a look at the following video to see what Mr. Todoric has to say about the robot cell.
Universal Robots
Flexible (fast setup time, small batches)

Fast payback (1 year)

Safe for humans (force limited)

Easy to use (hand-guided programming)
This type of robot is force-limited, which means that it can work alongside humans without any fences. The robot will stop automatically when it feels an abnormal force or presence. The use of fencing is totally unnecessary. This means that the foot-print for the robotic cell is way smaller than with a robot that requires fencing. In fact, a collaborative Universal robot can be fitted on a table and stay there without being dangerous to the other human workers in the workshop.
Robotiq Adaptive Gripper
Inertia Switch decided to use a Robotiq 2-Finger 85 Adaptive Gripper in their application. This Gripper is frequently used on Universal Robots because of their superb pairing and:
Easy Installation (Pre-built physical and software kit)

Proven Functionalities (Satisfied customers)

Flexibility (Can grasp a wide range of parts)

One Gripper to grasp all the parts (No need for a tool changer)
Robotiq provides pre-packaged kits that are designed to fit the collaborative Universal Robots. From the mechanical coupling to cables and software, everything is ready to make life easier for the end-user. The big advantage of the Gripper is its flexibility. In fact, it can grasp a wide range of parts, so there is no need to have several grippers for different applications.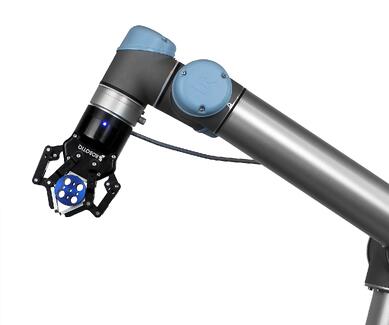 Machinist to Robot Programmer
Some people might be thinking, 'I bet the robot took the place of that machinist and now this guy is out of a job'. NO! The goal of collaborative robots is to do more of the manual tasks and free up the human worker for more oversite, other tasks or more intellectual tasks. In fact, the worker can now focus on quality and parts verification. Instead of providing the physical labor he can optimize the process and make sure the production is running smoothly. Tasks such as equipment maintenance can be done more often and all of this without having to worrying about whether or not the machine is getting fed. So the employee can:
Focus on process optimization,

Focus on product quality and verification,

Be redirected to more important or pressing tasks,

In a more stimulating working environment.
The worker can constantly learn new things and not just stand in front of the machine waiting for the next part. The job is more stimulating for the worker and the quality and consistency of the products improves.
At the end of the day, the manager has a better production, happier employees and a more stimulating working environment. It's a win-win situation. If you want to learn more about Universal Robots and the 2-Finger 85 Adaptive Gripper team, follow the link below.