Robotiq at IROS 2011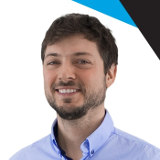 Robotiq will exhibit at the 2011 International Conference on Intelligent Robots and Systems (IROS) being held in San Francisco on the week of September 25th.
We will display in our booth (#17 - Lobby Level) the Adaptive Gripper that is used in both industrial and research applications. As you can see in the video below, the hand-like gripper has a unique rugged design that combines dexterous grasping and integration simplicity.
We're looking forward to discuss with the top researchers in the field of mobile manipulation, grasp planning, and teleoperation that will share their exciting work at IROS.
Hope to see you there!